'NCIS' Season 16 Episode 11 Spoilers: McGee & Torres Get Arrested; Gibbs' Team Gets Kick Off A Murder Investigation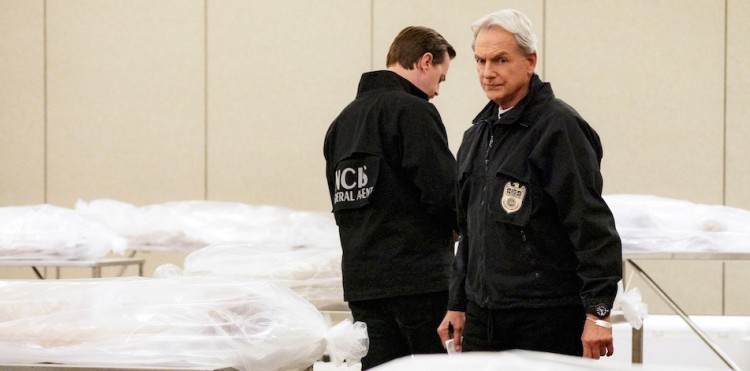 The NCIS team will start the new year with a very tense episode as two of their agents will get arrested. Special Agent Gibbs, on the other hand, will have a confrontation with the Secretary of Defense in the upcoming NCIS Season 16 Episode 11.
Gibbs' team will be called in to investigate a murder case that is connected to the U.S. Navy. In the sneak peek for the upcoming episode, authorities are seen rushing to a port and men wearing hazmat suits are checking the crates of a shipping container.
It looks like the team will eventually find out that their murder case has a link to the missing chlorine gas. Special Agents McGee (Sean Murray) is seen in the trailer telling someone that there are missing containers of chlorine gas. The death of the people that Gibbs (Mark Harmon) and his team are investigating could have been caused by exposure to the deadly amount of chlorine gas.
Meanwhile, DoD Secretary Wynn Crawford (Mitch Pileggi) will step in into the case and stops the team's murder investigation. The teaser suggests that Gibbs' murder case and the missing gas could have a connection to a larger threat to the nation's security as Crawford tells Gibbs that there is "a lot bigger play" in the case.
Apparently, Crawford will order the arrest of Agents McGee and Torres (Wilmer Valderrama) for their actions in the case. Most likely, the secretary releases an order to shut down the investigation but the two disobey his command, possibly with Gibbs' blessing. Avid fans of NCIS have already known that Gibbs gets piss when someone intervenes with his investigation even if he is the Secretary of Defense.
In the teaser for the upcoming Episode 11, titled, "Toil and Trouble," McGee and Torres' badges have been taken from them. As expected, this wouldn't stand for Gibbs. He is seen in the teaser turning in this badge too after Crawford tells him that he can add his badge to those already in the table. The DoD Secretary is referring to McGee and Torres' badges.
Aside from Pileggi, other guest stars in Episode 11 are Oz actor Scott William Winters, Ocean's Thirteen star Kasey Mahaffy, and more. NCIS Season 16 Episode 11 airs on January 8 at 8/7c on CBS.
© 2019 Korea Portal, All rights reserved. Do not reproduce without permission.