Netflix Appeals To The Public To Stop Doing The 'Bird Box' Challenge; Shares Boy & Girl Only Wish For 2019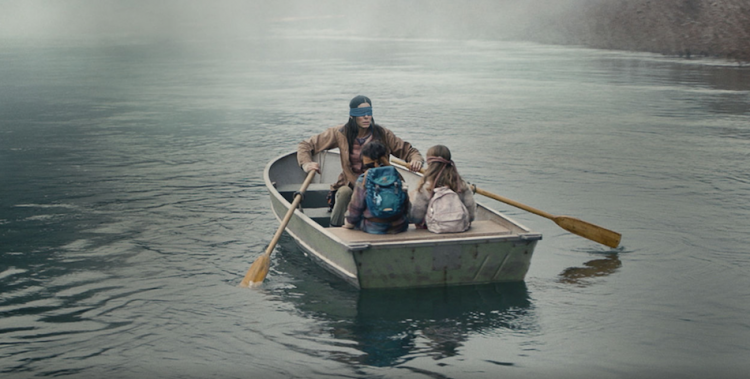 Netflix has issued an appeal to the public to stop doing the Bird Box challenge. Many find it challenging and thrilling but to the network, it is dangerous.
In the time where many "challenges" were shared on social media such as the Ice Bucket challenge or the Drake's "In My Feelings" challenge, Netflix is trying to avoid it. The network has released a plea to the public after a meme challenge inspired by its latest movie has gone viral.
A lot of people are now trying the challenge by blindfolding themselves as if they were in the movie. In the "challenge," a person is put on a blindfold and tries to navigate the world around him just like in the movie, Bird Box.
In the clips of the people who tried the challenge, some are seen wandering around indoors and outdoors while wearing blindfolds. Some of the videos also include people walking blindfolded in the busy streets of cities like New York or putting a beanie over his eyes while driving. Others were seen stumbling around in streets, falling down the stairs, or walking right into a wall.
"Can't believe I have to say this, but: PLEASE DO NOT HURT YOURSELVES WITH THIS BIRD BOX CHALLENGE. We don't know how this started, and we appreciate the love, but Boy and Girl have just one wish for 2019 and it is that you not end up in the hospital due to memes," the network tweeted.
Bird Box is a horror movie that stars Sandra Bullock. The story revolves around a mother, Malorie (Bullock), and her children, named Boy and Girl, who are forced to wear blindfolds to avoid seeing a mysterious creature. If a person sees it, it compels the person to kill himself. In search of a safe haven where they will not be terrorized by the unknown creature, Malorie and her kids navigate a river, the forest, and treacherous terrain in blindfolds.
The movie is a huge success but it also inspired a challenge in which people blindfolded themselves and then trying to do the things they usually do. They make a video out of it and share it online. The challenge is dangerous not only to the one that is blindfolded but also to the people around him.
Even Good Morning America host Michael Strahan tried to do the challenge but in a less dangerous way. He put lipstick on to his co-host Sara Haines while wearing a blindfold.
Bird Box is based on a 2014 novel by Josh Malerman. It was released worldwide on December 21. According to Netflix, the movie is now the most-watched film on its platform.
© 2019 Korea Portal, All rights reserved. Do not reproduce without permission.