'Big Bang Theory' Actress Kaley Cuoco Hits Back On Instagram Followers For Insinuating She's Pregnant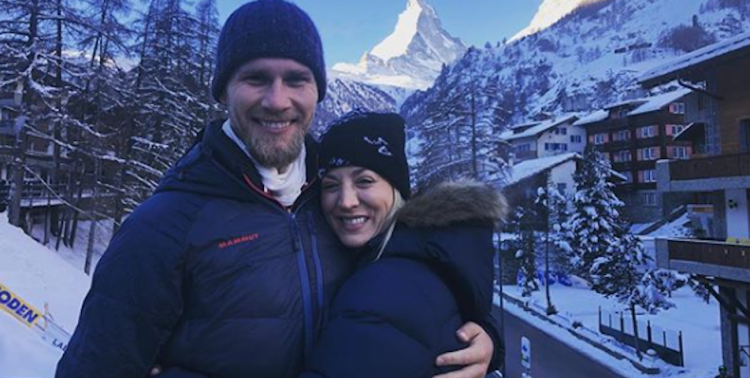 If Kaley Cuoco's character, Penny, in The Big Bang Theory is an outspoken woman, the actress is equally frank as she is. Cuoco has once again shut down speculations that she and husband Karl Cook are expecting and slammed her followers on Instagram that suggest that she is pregnant.
Cuoco and Cook got engaged in November 2017 and exchanged "I do" in June this year after being together for more than two years. But they haven't had their honeymoon because the actress underwent shoulder surgery.
The couple finally had they honeymoon in Europe recently. Cuoco clearly enjoys the time with her husband in the cold weather of Switzerland but she also spews fire when a couple of her Instagram followers suggest that she is pregnant and hiding her baby bump.
Her followers asked, "When's the baby due?" and "Are you hiding a baby bump?!?!" The comments were made on a photo of Cuoco kissing Cook while they are in Switzerland. Cuoco shared a screenshot of the comments on her Instagram Story, along with an eye roll emoji.
"I'm so sorry I bent over in a way where my dress billowed in the wind and made you think this. Question: Would you walk up to me and ask this straight to my face?" said the actress who is obviously annoyed by the trolls.
This isn't the first time Kaley Cuoco has been asked if she is pregnant. In October, she posted a photo of her and her sister, Briana, at the 2018 InStyle Awards in Los Angeles.
After sharing a snap from the event on Instagram, Cuoco, once again, received comments about how she appeared to be pregnant. In her Instagram Stories, Cuoco said it is "comedic and shocking" that people would ask someone if she is pregnant if she is dressed up for an event.
In a previous interview with Entertainment Tonight, Cuoco talked about having children with Cook. She revealed that it is in their future plans.
"I'm not quite there yet but I know that I will be because I love kids. But I'm a worker bee right now...kind of my career is my focus and my husband. But we love kids and we love animals, so we're meant to have children," she said.
A source close to the actress told the publication that Cuoco is likely waiting for the right timing, probably after The Big Bang Theory wrap up in May 2019, to become a mother. The 33-year-old actress and Cook first met in a horse show and began dating in 2016, a year after Cuoco's divorce with pro tennis player Ryan Sweeting.
© 2020 Korea Portal, All rights reserved. Do not reproduce without permission.