Kaley Cuoco & Other 'Big Bang Theory' Stars Pay Heartfelt Tribute To Stan Lee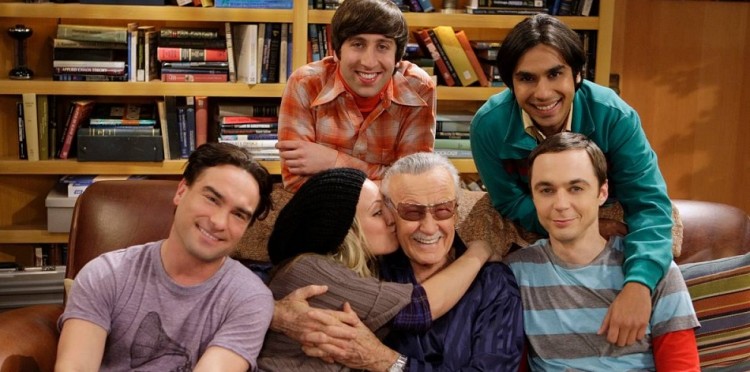 The Big Bang Theory stars are among the celebrities who were shocked and saddened for the passing of Stan Lee. TBBT actress Kaley Cuoco called the Marvel Comics legendary creator as an "epic superhero."
The Big Bang Theory has been known for having world-renowned personalities in the show throughout its 12-year run. One of them is Stan Lee. The comic book writer and producer appeared as himself in TBBT Season 3 Episode titled "The Excelsior Acquisition" in 2010.
In the episode, the gang is supposed to meet Lee at Stuart's (Kevin Sussman) comic book store where he will sign autographs. Unfortunately, Sheldon (Jim Parsons) missed the opportunity to meet one of his heroes as he has to appear in court for running a red light a few months back when he took Penny (Cuoco) to the hospital. Sheldon blames Penny for it.
To cheer Sheldon up, Penny looks for Lee's address. She takes Sheldon to meet him but when he misinterprets Lee's sarcasm and enters his house, he ends up getting a restraining order. Instead of getting piss, Sheldon proudly shows the court's order to Leonard (Johnny Galecki), Howard (Simon Helberg), and Raj (Kunal Nayyar) and tells them that he will frame and hang it next to his TRO from Leonard Nimoy.
It was Lee's only appearance but the cast members remember him so well. Apparently, Lee often visits the set of TBBT and shares stories to the cast, as stated by Cuoco.
"He left his magnificent stamp on our show @bigbangtheory_cbs in so many ways and we are eternally grateful. I adored his visits, hugs and fantastic stories. He was an epic superhero and I will never forget him!!," Cuoco captioned her photo with the comics publisher and ended her tribute with Lee's catchphrase, "excelsior!!"
Lee died on Monday at age 95. He is the brain behind the iconic Marvel characters as such Iron Man, Spider-Man, Thor, Doctor Strange, the X-Men, Black Panther, the Fantastic Four, and more. Galecki and TBBT co-star Mayim Bialik also wrote a touching tribute to him.
"Safe passage, Mr. Lee. Thank you for all you gave the world, not the least your incredible sense of humor and insuppressible lust for life. It was a pleasure to know you. You are already missed," Galecki wrote along with a photo the cast of The Big Bang Theory and Lee with Cuoco kissing him on the cheek.
"What a loss to the world of geeks, nerds, superheroes and everyone who has enjoyed the marvelous Universes that @therealstanlee crafted and molded and allowed us to be a part of," Bialik wrote.
Meanwhile, in the upcoming The Big Bang Theory Season 12 Episode 9 newlyweds Sheldon and Amy (Malik) are devastated after they found out from a Russian paper that Super Asymmetry has already been discovered and also disproven. Bernadette (Melissa Rauch) asks Stuart's girlfriend, Denise, to teach her how to beat Howard in a popular video game. The Big Bang Theory Season 12 airs Thursday on CBS.
© 2023 Korea Portal, All rights reserved. Do not reproduce without permission.