'This Is Us' Star Mandy Moore Looks Divine In Pink Wedding Dress; Actress' Ex Wilmer Valderrama Attended The Nuptial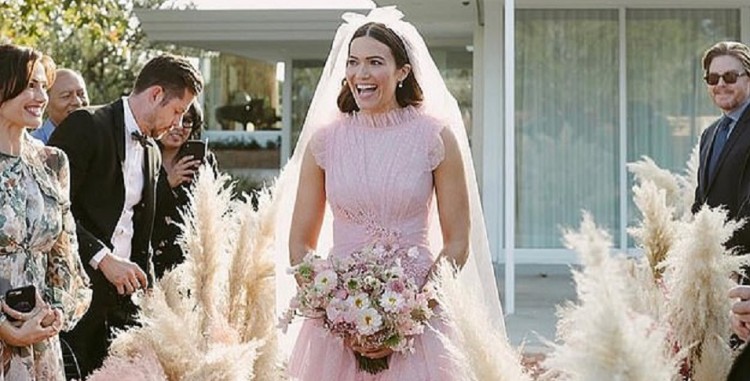 This Is Us actress Mandy Moore has walked down the aisle in her dreamy backyard wedding in a pink wedding dress. The singer/actress shared some photos from her intimate wedding to Dawes frontman Taylor Goldsmith on Sunday.
The couple exchanged vows on simple yet classy nuptial outside their Los Angeles home. In the snaps that Moore posted on her Instagram account, she is seen glowing in a pink tulle dress by Rodante.
The "Candy" singer received admiration for her elegant look on her wedding day. Some fans also see the resemblance of Moore's simple bridal-look to her This Is Us character, Rebecca, when the latter wed Jack Pearson (Milo Ventimiglia).
The atmosphere at the Goldsmith-Moore nuptial also spells boho-chic style. The photos feature bohemian rug that ran down the aisle and pink flower arrangements with some large feathers.
The ceremony was attended by the couple's closest family members and friends. E! News reported that that the nuptial was attended by about 50 guests.
"It was important to Mandy that there not be too many people there, so the guest list was very small, just family and close friends," the publication quoted a source.
After the ceremony, the group traveled to The Fig House, a private event space in the Highland Park neighborhood of LA. Some of the attendees are Moore ex-boyfriend NCIS actor Wilmer Valderrama and her This Is Us co-stars Milo Ventimiglia, Chrissy Metz, and Sterling K. Brown.
The Tangled actress earlier revealed that her wedding would be low key and wouldn't be extravagant like many expected. Apparently, the couple also went with a non-traditional wedding reception.
There is no formal dinner. Instead, they chose to put up food stations around the venue to offer their guests different food options such as from meat, cheese, bread, and vegetarian food. A wine station also provides a wide selection of beverages. As for wedding cake, apparently, Moore and Goldsmith opted to have 12 different kinds of cake so their guests have choices too.
"It's not going to be some lavish affair. It is maybe something that isn't going to require as much planning or at least that's what I'm telling myself," she told E! News.
Mandy Moore and Taylor Goldsmith began dating in 2015. He proposed to her in September 2017. The actress was previously married to former Whiskeytown frontman Ryan Adams. Moore filed for divorce in January 2015 citing "irreconcilable differences". It was finalized in June 2016.
© 2023 Korea Portal, All rights reserved. Do not reproduce without permission.