EXO's Suho Stuns Fans For Being Hilariously Extra At The Airport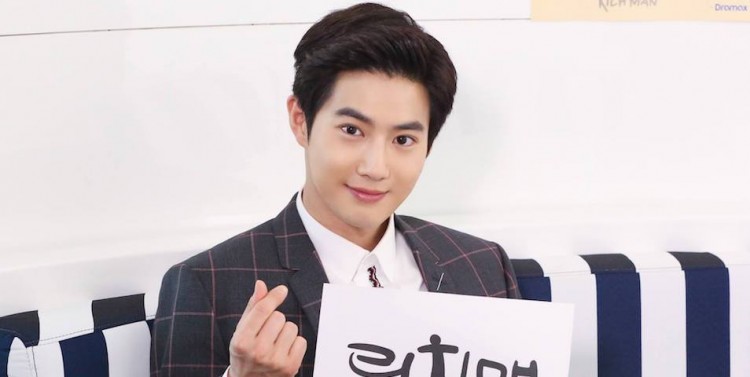 EXO member Suho is known to love making jokes. Although his bandmates sometimes find his joke not funny, his latest stunt at the airport surprises fans and brought laughter to everyone including his bandmates.
Suho became extra during the band's arrival at the Incheon International Airport recently when he suddenly roll on the ground. The EXO member along with bandmates Chanyeol, Kai, D.O., Baekhyun, and Chen are scheduled to leave for Taiwan on Monday.
As soon as their vehicle arrived at the airport, Suho gets off the van. Based on the clip shared by fans at the airport, the EXO leader hesitated at first but after a while, he rolled on the ground. Dressed in black NY Yankees parka jacket and white Converse shoes, Suho rolled on the pavement twice and gave his cutest heart aegyo to the delight of everyone waiting for the group at the airport.
His bandmates, on the other hand, remain inside the van to give Suho the spotlight. Chanyeol is seen laughing and filming the scene while inside the van.
Fans quickly speculate that Suho's hilarious airport stunt could be a penalty or he lost a bet to his bandmates. Members Chen and Chanyeol are seen congratulating Suho for completing the stunt.
EXO is currently busy promoting their comeback and fifth studio album Don't Mess Up My Tempo which was released earlier this month. The LP is the band's first album with all nine members after Lay took a break from promoting with his bandmates in June 2016.
The K-pop group is also set to do a new reality show soon. Member Baekhyun earlier revealed the plan for a show that will also feature all members and it is going to be a reality series which will be filmed in another country.
Meanwhile, the 2018 Korea Popular Music Awards has announced the nominees for this year's major awards: Best Artist, Best Album, and Best New Artist Awards. EXO got a nod for Best Artist Award along with BLACKPINK, BTS, MAMAMOO, Red Velvet, SHINee, TWICE, Wanna One, and more.
The list of artists that are nominated for genre-specific awards will be announced on November 20. The online voting on the 2018 KPMA website will also begin on the same day. Online voting will run from November 20 to December 16 except for the Popularity Award which will end on December 20.
The winners of 2018 KPMA will be determined using both online voting and a panel of expert judges. The awards night is scheduled on December 20 at the Ilsan KINTEX.
© 2019 Korea Portal, All rights reserved. Do not reproduce without permission.