EXO Talks About Long-Awaited Comeback; Reveals Plan For New Reality Show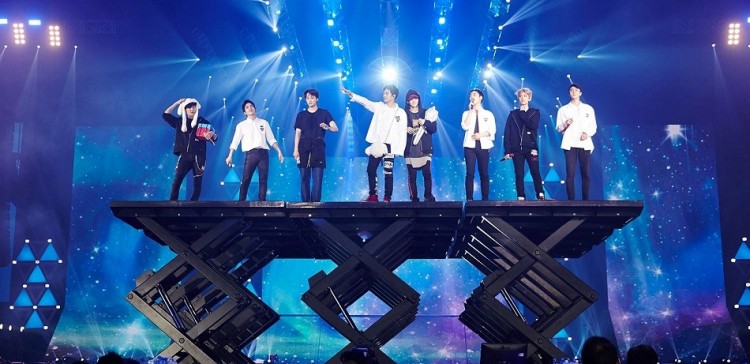 EXO has a lot to offer to their fans on their comeback. Aside from their long overdue comeback album, the K-pop band is also planning to film a new show.
A day before the official release of their comeback album, EXO held a pre-listening session for Don't Mess Up My Tempo. They also talked about their long-awaited comeback and plans in the future.
EXO member Baekhyun revealed the plan they have for their upcoming TV program. He recalled the time when EXO subunit, EXO CBX, started filming their travel reality show, Travel the World on EXO's Ladder, earlier this year. Baekhyun said at the time they express to their producer and agency their desire to do a similar show with all the members of EXO.
SM Entertainment granted EXO CBX's request and a plan has been set for a new show that involves all member of the group which means Lay could also join the group. Baekhyun revealed that it is going to be a reality show which will be shot in another country. He couldn't reveal the filming details but assured that it will be done a good location for a "healing broadcast."
"It's been decided that we will film a reality show with all the members. I can't reveal when we will be leaving, but I think we will be able to create a 'healing broadcast' at a good location. As it will be a variety program, it will also be great fun," Baekhyun said.
Meanwhile, the EXO members said they know how patient their fans are for waiting for their new album. They assured that the long wait is worthy as they worked hard for their comeback album.
Suho also gave out some details on what to expect in Don't Mess Up My Tempo. He said there are tracks in the LP that feature the fictional supernatural powers of each member.
"It's a new concept, so it was really fun... I'm not embarrassed by the fact that we have supernatural powers," he jokingly said.
When asked about the album's motorcycle theme and if members have motorcycle licenses, Suho admitted that they did not. He explained that since they don't have licenses, the staff did all the heavy lifting when they shot the MV for "Tempo."
"We went with a 'rider' theme, but actually, no one [from the group] has a motorcycle license. That's why when we would move locations, we wouldn't touch the motorcycles - [the staff] moved them for us. We just sat on them," Suho said which made the audience burst into laughter.
EXO is set to drop their fifth studio album Don't Mess Up My Tempo along with its title track "Tempo" and MV on November 2 at 6 p.m. KST. They are also scheduled to hold a comeback showcase at 8 p.m. KST. The nine-member group will also perform "Tempo" at the Music Bank on November 2.
© 2019 Korea Portal, All rights reserved. Do not reproduce without permission.