EXO Unveils 'Don't Mess Up My Tempo' Teaser Featuring Lay & New Twitter Emoji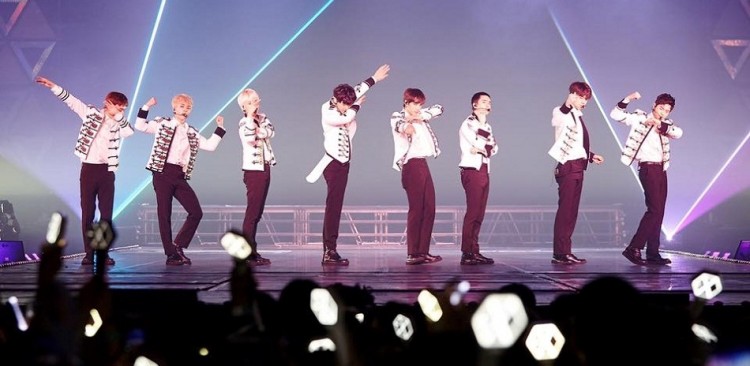 EXO has unveiled their latest teaser for upcoming album Don't Mess Up My Tempo, and it features Lay. The clip also includes a preview of EXO's B-side track "Smile on My Face."
EXO has put a hype of Lay's participation in the band's new album. Aside from a teaser, SM Entertainment also released several promotional still images of the singer/actor. Most of the photos feature Lay in a leather jacket while riding a bike. It coincides with the earlier photos of the other members which all have the same motorcycle theme.
SM Entertainment earlier confirmed that Lay would be joining his bandmates in Don't Mess Up My Tempo. In June 2016, Lay announced he would not take part in the band's next album, saying he would like to focus on his acting career instead. Since then, he has been absent from EXO public appearances.
The band was able to release both their second Japanese single, "Coming Over," and their fifth EP For Life in December 2016. The last album Lay participated in was the repackaged edition of the album Lotto in August 2016.
EXO also dropped on their official Twitter account a new special emoji in honor of their new LP. Moreover, the group also introduced five different hashtags: #EXO, #weareoneEXO, #EXO_TEMPO, #EXO_DontMessUpMyTempo, and #어디에도_없을_완벽한_EXO. Four of which are now trending worldwide.
Don't Mess Up My Tempo is the EXO's comeback and fifth LP. EXO's Ls have been waiting for the band's comeback since the release of The War in July 2017. Although the band dropped the reissue of The War: The Power of Music in September 2017 and a winter special album Universe in December 2017, their fans have been eager to hear a brand new full-length album especially from all the members of EXO.
The nine-member K-pop act is scheduled to release Don't Mess Up My Tempo on November 2. Suho, Baekhyun, Chanyeol, D.O., Kai, Sehun, Xiumin, Chen, and Lay are also set to hold a comeback showcase in Seoul on the same day. It will also broadcast live through SMTOWN's Naver V Live channel.
Meanwhile, SM Entertainment issued an update about the legal action they are taking against the people who posted defamatory remarks about their artists EXO member Chanyeol and Girls' Generation's Taeyeon. The agency said several persons have already been charged and they continue to investigate other illegal activities targeting their artists.
"As a result of the complaints filed by the company for defaming and insulting posts about Girls' Generation's Taeyeon and EXO's Chanyeol, the suspects have received a suspension of an indictment or have been formally charged. We inform you that their crimes have been confirmed, and the suspects received fines and received legal disposition," the company said in a statement (via Soompi).
EXO The 5th Album
'DON'T MESS UP MY TEMPO'

'Circuit #LAY'

2018.11.2 6PM (KST)
https://t.co/x08K1AfNWM #어디에도_없을_완벽한_EXO #EXO #weareoneEXO #EXO_TEMPO #EXO_DontMessUpMyTempo #엑소 pic.twitter.com/qv4nCQ2sRo — EXO (@weareoneEXO) October 28, 2018
#EXO 정규 5집 수록곡 '여기 있을게 (Smile On My Face)'의 스포일러 음원과 강렬함을 자아내는 레이의 티저가 공개됐습니다!#엑소 의 정규 5집 앨범 많이 기대해주세요! #EXO_DontMessUpMyTempo : 2018.11.02. #어디에도_없을_완벽한_EXO⁠ ⁠⁠ ⁠ #weareoneEXO⁠ ⁠#EXO_TEMPO⁠ pic.twitter.com/niqd3MvKfr — EXO (@weareoneEXO) October 29, 2018
© 2019 Korea Portal, All rights reserved. Do not reproduce without permission.