'NCIS: Los Angeles' Season 10 Episode 9 Spoilers: Team Hunts Down Robbers Who Stole Classified Documents; Kensi & Deeks Are Looking For Bar Manager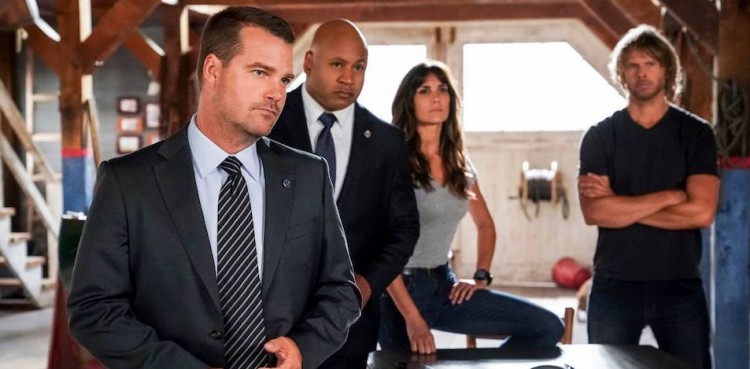 The Navy agents in LA will next hunt robbers who stole some classified documents at the house of a Navy captain in the upcoming NCIS: Los Angeles Season 10 Episode 9. The team, however, has their suspicion that it wasn't just a simple home invasion but rather an elaborate conspiracy and a possible inside job.
In the upcoming Season 10 episode, the team will be called in to look into a home invasion at Navy Captain Dean Hadlow's (Christopher Goodman) home. Apparently, some armed robbers broke into the house while the captain is entertaining his friend, Pakistani General Omer Abidi (Ravi Kapoor), at his home.
The burglars managed to steal some money and jewelry. However, what raises suspicion to the NCIS team is that some highly classified documents are also revealed missing from the captain's house.
In the teaser for NCIS: Los Angeles Season 10 Episode 9, Sam (LL Cool J) tells Callen (Chris O'Donnell) that the robbers did not actually break into the house as they used a key. This makes Callen conclude that it is an inside job in an international proportion presumably because the Navy captain is having a Pakistani general at his house when the crime was committed.
Elsewhere, soon-to-be-wed couple Kensi (Daniela Ruah) and Deeks (Eric Christian Olsen) will interview candidates to manage the bar that the latter recently acquired. The couple could probably want to focus on the preparation of their wedding so they will look for someone who can run the day-to-day operation of the bar.
Kensi and Deeks' duties at NCIS agents are already draining their energy as they run after criminals and solving cases across LA. Having someone to look into the bar's operation would lessen their burden. Deek's mother, Roberta (Pamela Reed), will also appear in Episode 9 titled "A Diamond in the Rough." Roberta is dropping by possibly to help Kensi in the wedding preparation which Deeks already warned her about in the past episode.
Meanwhile, Callen and his team have proven to NCIS Deputy Director Louis Ochoa (Esai Morales) and to the higher-ups in Washington, D.C. that they are wrong about the NCIS LA agents. In the previous episode, the team was assigned in a questionable operation.
Instead of entirely agreeing on what they were asked to do, the team investigated the circumstances surrounding the operation thoroughly and why it was given to them. They, later on, found out the truth about it.
In the end, they were able to stop an imminent terror attack and rescued a mentally ill mother from killing herself and her baby. The team has also proven to they are a team who can operate in a gray area but they will never go in black. NCIS: Los Angeles Season 9 airs Sundays at 9:30 p.m. ET on CBS.
© 2021 Korea Portal, All rights reserved. Do not reproduce without permission.