Hyun Bin & Park Shin Hye's Still Images & Posters For K-Drama 'Memories Of The Alhambra' Hint Both Romance & Suspense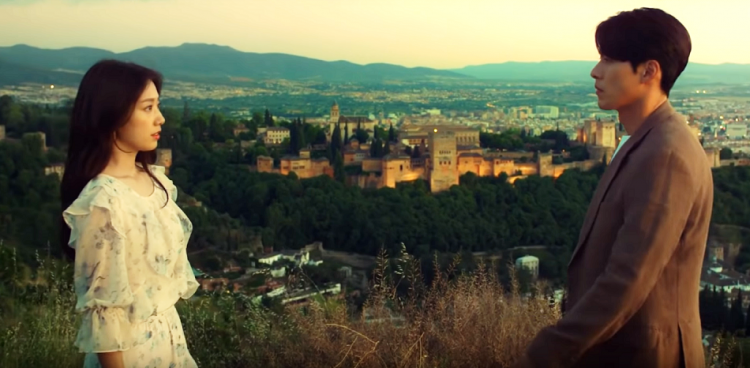 Korean A-list stars Hyun Bin and Park Shin Hye promise a new drama that is full of thrilling storylines. The two will play the lead roles in the upcoming K-drama titled Memories Of The Alhambra and by the looks of their promotional photos, it will indeed pack with romance, mystery, and suspense.
Korean TV network tvN dropped new promotional images of Hyun Bin. The actor perfectly portrays his company executive character in the first photo while he casually drinks coffee in an outdoor café. The other image suggests some mystery in his role as he is seen in front of a train station, looking serious while waiting for somebody or the train to arrive.
Memories of the Alhambra follows the lives of an investment company CEO Yoo Jin Woo (Hyun Bin) who gets involved in a series of mysterious events after staying at an old hostel in Granada, Spain during a business trip. The inn is being managed by Jung Hee Joo (Park Shin Hye).
Last month, tvN also released the still images of Park as Jung Hee Joo. In one of the photos, Hee Joo looks exhausted while standing in a narrow alley of Granada. The second image shows the character cheerfully greeting tourists with her bright smile while working as a tour guide.
The network has also released two promotional posters of the drama recently. Both materials show Jin Woo and Hee Joo and the breathtaking sight of Granada in the background but the two characters have different facial expressions in the posters. In the first poster, they smile romantically at each other while in the other, they look tense as they stare at each other.
The drama focuses on the romance and suspense on the lives of the two main characters. The production team of the drama said there is no one else who can perfectly play both the romance and suspense storylines of the series than Hyun Bin. The producers of Memories of the Alhambra also commented that Park Shin Hye played Jung Hee Joo beyond their expectation, saying the actress has made the character her own.
Memories of the Alhambra is written by K-drama W scriptwriter Song Jae Jung. It is being helmed by Secret Forest director by Ahn Gil Ho. The upcoming tvN drama will premiere on December 1 at 9 p.m. KST.
© 2023 Korea Portal, All rights reserved. Do not reproduce without permission.