Gugudan's Hyeyeon Explains To Fans Her Reasons For Leaving K-Pop Group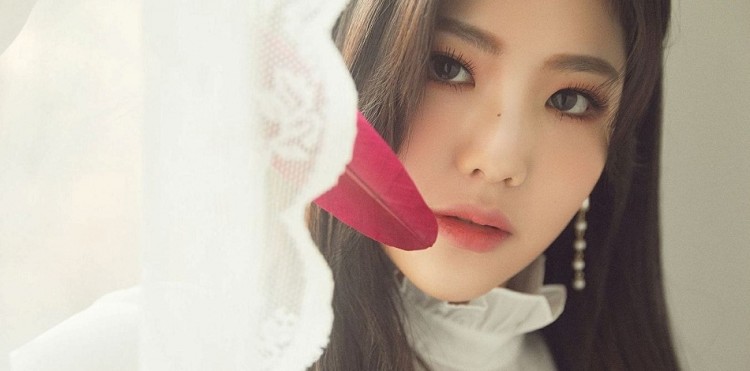 Gugudan member Hyeyeon has bid her temporary goodbye to her fans. Following the announcement from Jellyfish Entertainment that Hyeyeon would be leaving her group, the singer shared an emotional handwritten letter to her fans. Hyeyeon explained the reason why she decided to part ways with her Gugudan.
Hyeyeon expressed her gratitude to her fans and sadness for leaving her bandmates. The 18-year-old singer said she will be focusing on her health and her studies for now. Hyeyeon has been a hiatus from Gugudan's activities since May due to health concerns. She assured fans that she is recovering well and also doing well in school.
Many fans expressed sadness that Hyeyeon is leaving her group. Some expressed that the female idol may decide to venture into acting next. Hyeyeon is the youngest member of Gugudan.
On Thursday, Jellyfish Entertainment revealed that Hyeyeon would be ending her activities with Gugudan after long discussions with the singer about her future career path. Although Hyeyeon is leaving the K-pop band, she will remain associated with Jellyfish.
Hyeyeon's exit from her band comes a few weeks before the scheduled comeback of the group next month. Gugudan will unveil their third mini album on November 6 with eight members: Hana, Mimi, Nayoung, Haebin, Kim Sejeong, Soyee, Sally, and Mina. Some fans are wondering if the group will recruit a new member since Gugudan means "nine."
Aside from a new album, Gugudan will also be having their first ever solo concert on December 1 and 2 at the Ewha Woman's University Auditorium in Seodaemun District, Seoul. Fans may start reserving tickets for the event, titled gugudan 1st Concert Play on October 30 at 8 p.m. KST via Interpark.
The group is also scheduled to have their first Japan tour starting on December 7, 2018. The girls will be visiting Osaka and Tokyo.
Hyeyeon and the rest of Gugudan made their debut in June 2016 with their album Act. 1 The Little Mermaid and its title track "Wonderland." Earlier this year, the group released their second mini album, Act. 4 Cait Sith, featuring the title track "The Boots." Other hit songs of Gugudan are "A Girl Like Me," and "Chococo."
Hyeyeon was also part of Gugudan's first subunit: the 5959. The unit is composed of two youngest members: Mina and Hyeyeon. They released their debut single, "Ice Chu," on August 10, 2017. The subunit is also now inactive following Hyeyeon's departure.
© 2019 Korea Portal, All rights reserved. Do not reproduce without permission.