Outlander Actress Caitriona Balfe Admits Missing Tobias Menzies + Disses Sam Hueghan On Claire's 100th Birthday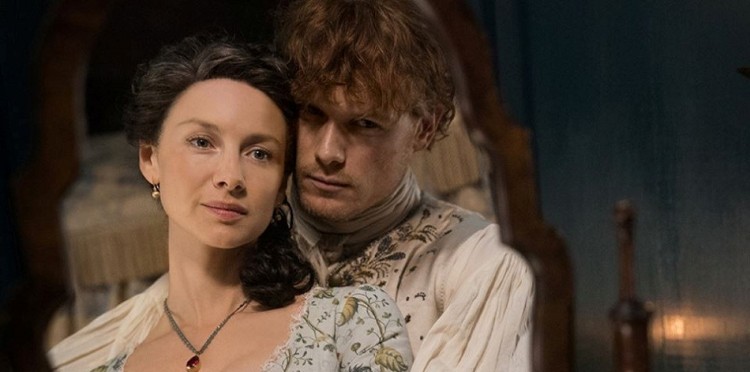 Outlander actress Caitriona Balfe just made Claire Fraser's 100th birthday a little more special and funny when she answered 100 questions from fans throughout the day. During the Q&A on Twitter, Balfe admitted that she misses co-star Tobias Menzies on set the most while she dissed her other on-screen husband, Sam Heughan.
Outlander fans celebrated Claire Elizabeth Beauchamp Randall Fraser's birthday on October 20. To mark the date, Balfe invited fans to send in their questions about Outlander and her character, Claire.
One fan asked the actress which character or actor who already left the series she misses the most. Balfe said it is Menzies. She, however, added that she misses the actor's character as Frank Randall and not the villainous Black Jack Randall.
Menzies replied to Balfe sweet message, saying he misses her too. Then actor Graham McTavish joins the exchange of tweets and implied that he is hurt that Balfe did not miss him or his character Dougal MacKenzie, Jamie's uncle.
"You should have been nicer Dougal ... you should have been nicer!!!!!" Balfe hilariously replied.
"I think those were, in fact, your last whispered words to me as you drove a knife through my broken heart. Along with "when's lunch?" McTavish told Balfe. The actor was referring to the scene in the Season 2 finale when Jamie Fraser (Sam Hueghan) pushes a blade into Dougal's chest with the help from Claire.
Another fan asked Balfe about the most embarrassing thing she could reveal about her leading man, Sam Heughan. The actress revealed that The Spy Who Dumped Me actor is bad in dancing. But Balfe still showed her admiration for her on-screen partner when someone asked how much she loves working with Hueghan.
"Okay, we get it!!!! He's AMAZING!!! Jeez !!!!! (can a girl get ONE freaking day ) #Happy100Claire," she wrote.
Balfe also gave credit to Outlander author Diana Gabaldon for creating a character that embodies women empowerment, passion, and love, and also changed her life.
"Wooooaahhhhh!!!! Happy 100th Birthday Claire Beauchamp Randall Fraser ... Thank you for changing my life and giving joy to so many people ... Thank you for entering the brain of the incredible @Writer_DG to whom we all are so indebted," Balfe wrote along with a portrait of 100-year-old Claire.
Meanwhile, Outlander fans have to wait for a couple more weeks before the fourth season of Starz time-travel drama returns. Outlander Season 4 airs on November 4 at 8/7c.
For the meantime, Outlander clans could watch the recently-released teasers for Season 4. In one of the videos, Claire tells Jamie about future America when people from other countries will come and start what is so-called the "American dream."
But the life of the couple in a new world will also have new challenges. Roger (Richard Rankin) is also seen reading news clipping about the death of Jamie and Claire Fraser. Brianna (Sophie Skelton) says she can prevent the death of her parents by finding them. She is then seen touching the stone.
© 2019 Korea Portal, All rights reserved. Do not reproduce without permission.