BLACKPINK's Lisa Enjoys MREs In 'Real Men 300'; Singer Impresses Everyone With Her Strength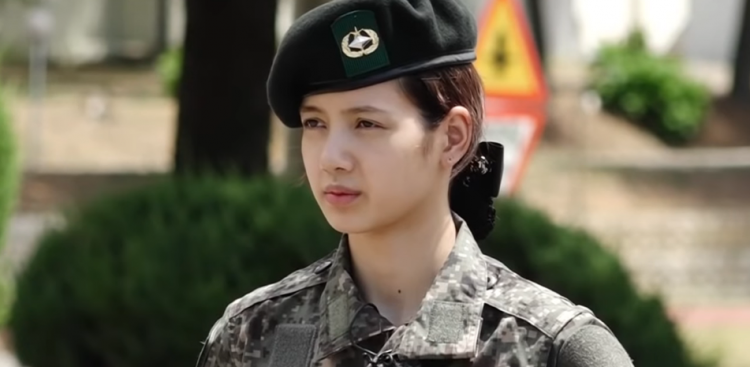 BLACKPINK's Lisa, PENTAGON's Hongseok, and the rest of the cast of the new season of Real Men 300 will deliver laughter to viewers in its upcoming episode. MBC released some teaser photos of the cast showing them devouring their food while in a military training.
The reality TV show Real Men 300 features celebrities experiencing the life in the military. They are evaluated to determine if they can meet the standards required to be part of the Army's elite "300 warriors." If they do, they will be named an "honorary" member of the squad.
The photos showed Lisa, Hongseok, and actress Lee Yoo Bi trying the Korean Army's Meals-Ready-to-Eat or MREs. Hongseok seems to be a little apprehensive of the meal at first as he carefully tastes the MREs. Lee Yoo Bi is pulling a string in the MREs to heat it up. Lisa, on the other hand, looks like an expert of MREs as she opens her mouth wide to eat her supply. In another image, the other cast members are seen sitting on the stairs while eating their food ration.
"Viewers will be able to see the cast members exhausted by the intensified guerrilla training and their reactions to seeing the appearance of the interesting MREs," Soompi quoted some sources from Real Men 300 as saying.
In the previous episodes, Hongseok showed off his skills in guerrilla training. He successfully crossed a mud pit and led this team to the finals. Lisa, on the other hand, impressed every one of her strength. During the rookie cadets' physical exams, Lisa was able to do 20 push-ups and 38 sit-ups. Although language is becoming a challenge to her, it can be seen that she is trying her best to overcome it.
Real Men 300 Season 3 was filmed at the Korea Army Academy in Yeongcheon in July. It premiered on September 21. The show airs every Friday at 10 p.m. KST on MBC.
Meanwhile, a new batch of celebrities has started filming for Real Men 300. MBC recently released photos of 2NE1 alum Sandara Park, MOMOLAND's JooE, Oh Ji Ho, actor Lee Jung Hyun, and BJ GAMST as they about to start their training at the Special Warfare Training School in Gwangju of Gyeonggi Province.
© 2020 Korea Portal, All rights reserved. Do not reproduce without permission.