'What's Wrong With Secretary Kim' Actor Stuns 'The King Of Mask Singer' Audience With His Powerful Voice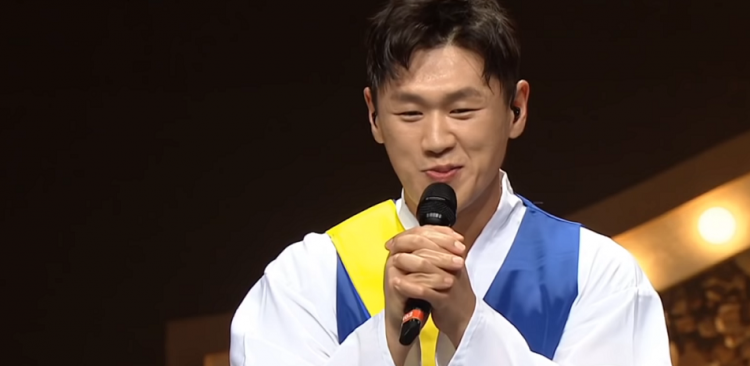 What's Wrong With Secretary Kim actor Kang Hong Seok is indeed a total performer. Aside from his impressive acting skills, he showed off that he is a great singer too. Not known to many, Kang has a soulful voice.
The actor recently joined MBC's The King of Mask Singer under the name "Samulnori Boy." He first performed a duet of Park Jung Hyun and Im Jae Bum's "Scars Deeper than Love" with another singer called "Korean Fan Dance Girl." "Samulnori Boy" successfully moved onto the next round and the "Korean Fan Dance Girl" has been revealed as GFRIEND member SinB.
In the second round, "Samulnori Boy" had his rendition of Min Hae Kyung's "Roses Like You" and once again stunned the audience with his powerful voice. He then moved to the next round and did a cover of Im Jae Bum's "The Flight."
However, "Samulnori Boy" was unable to garner enough votes. The mystery singer eventually revealed his identity and it is actor Kang Hong Seok.
The 32-year-old Korean actor recently starred in the Park Seo Joon and Park Min Young hit K-drama What's Wrong with Secretary Kim. He played the role of Park Seo Joon's character's driver, Yang Cheol.
Kang revealed to the audience of The King of Mask Singer that initially wants to be a singer but he ended up as an actor. He also expressed how grateful he is to be able to what he loves most.
"It was really nice that I was able to express my energy to my heart's desire. I always watched my seniors as an audience member, so it was a very different feeling to have them watch my performances today. I think I will always remember today fondly. I will continue to do my best wherever I am, whether it be performances, films, or dramas," Kang told the audience. Watch all of Kang Hong Seok's performances at The King of Mask Singer below.
Fortunately for Kang's fans, this is not the last time he will be seen singing. The actor will star in the musical production of Elisabeth alongside Suits actor Park Hyung Sik and VIXX member Leo. Reports indicate that JYJ's Kim Junsu is also in talks to join the upcoming production.
Elisabeth tells the life story of Austria's beautiful empress and her complicated relationship with Der Tod who is also known as "The Death" because of his fatal charm. Kang Hong Seok will play Luigi Lucheni, Elisabeth's assassin. Lucheni is the narrator of the musical.
Both Park Hyung Sik and Leo will play the role of Der Tod. It is common in a production of a musical in Korea to have more than one actor playing the same role. This allows the cast to have alternate performances.
If Kim Junsu will join the cast, he will also portray the same character. He previously played Der Tod in Elisabeth in 2012 and 2013 in which he also earned the Best Actor award at the 2012 Korean Musical Awards.
The musical production of Elisabeth will open on November 17, 2018 at the Blue Square Interpark Hall. It will run until February 10, 2019.
© 2018 Korea Portal, All rights reserved. Do not reproduce without permission.