'Thirty But Seventeen' Episode 23-24 Spoilers: Seo Ri & Woo Jin Sharing A Kiss + Something Is Wrong With Chan's Legs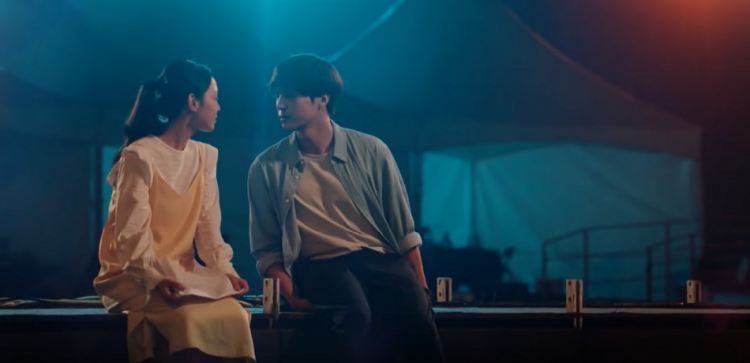 Woo Jin has finally voiced his true feeling for Seo Ri in the recent episode of Thirty But Seventeen. Although the two had a heated argument in the previous episode, it looks like something good between the two is coming up in Thirty But Seventeen Episodes 23-24.
In the previous episode, Woo Jin (Yang Se Jong) got involved in Seo Ri's (Shin Hye Sun) personal life. He threatened the organizer of the One Festival to stop their plan to use Seo Ri's backstory to push ticket sales or else he will not do their stage design. The organizers intend to publish an article about Seo Ri waking up from more than 10 years in a coma and is able to play the violin again.
Seo Ri confronted Woo Jin on why he is demanding her not to participate in the festival. Seo Ri told him that she knows about the festival's plan to use her story and she won't object to it. Seo Ri told Woo Jin that all she wants to do is to play the violin again and to perform on stage.
She also admitted that the festival could be the only way to find her uncle. Woo Jin, on the other hand, blurted out that he can't let the woman he loves to get hurt.
"I hate it. To see the person I like. No, the woman I love to get hurt more than anything," Woo Jin said.
In the preview for the upcoming episode, Seo Ri will tell Woo Jin that she will still perform at the event regardless of the latter's objection and admission that he loves her. Woo Jin's stage design is also seen being used in the One Festival.
It could mean that the organizer changes their mind about publishing Seo Ri's story or Woo Jin decided to support Seo Ri and pushes through with the stage design. Seo Ri thanked Woo Jin and the clip ends in a scene that suggests that the two could be sharing a kiss.
Elsewhere, Chan (Ahn Hyo Seop) is experiencing trouble with his legs. It looks like Chan and his rowing team won a competition but Chan notices that something is wrong with his legs.
Meanwhile, Thirty But Seventeen maintains its above 10 percent ratings for the previous episodes. It recorded 8.7 percent and 10.2 percent rating, making the SBS drama No. 1 on its timeslot. Thirty But Seventeen Episode 23-24 airs on Tuesday at 10 p.m. on SBS.
© 2023 Korea Portal, All rights reserved. Do not reproduce without permission.