'NCIS' Season 16 Spoilers: Torres & Palmer In Jail + Romance Is Blooming Between Torres & Bishop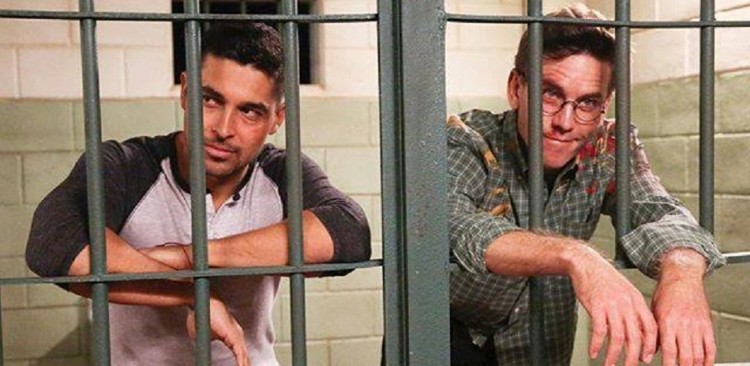 NCIS Season 16 will kick with a new opening credit and without Abby Sciuto in the lab. NCIS fans could expect more changes in the NCIS office such as possible new partners in the field and a blooming romance between two main characters.
NCIS actor Wilmer Valderrama has teased that his character, Agent Nick Torres, and Dr. Jimmy Palmer (Brian Dietzen) will be in some sort of trouble this season. They will eventually end up in jail and Torres is blaming Palmer for that.
Valderrama shared a photo of Nick and Jimmy behind bars and another image of his character with bruises on his face. Based on the blood splatters and stains on Palmer's shirt and some bruises on Torres' face, it looks the two have been in a brawl (or worst). The actor, however, did not mention from which episode did the two get into trouble.
"I blame Palmer.. #NCISSeptember 25th," Valderrama captioned the first photo.
The photo could also mean that Palmer will be joining Torres in the field since the team needs some extra hands. Agent Clayton Reeves (Duane Henry) is dead. Director Leon Vance (Rocky Carroll) was abducted by Nigel Hakim (Pej Vahdat). Agent Leroy Jethro Gibbs (Mark Harmon) will be leading the operation but he would probably give order from the office.
Agents Tim McGee (Sean Murray) and Eli Bishop (Emily Wickersham) will be working together leaving Torres alone. It could be another undercover operation and Torres and Palmer both love undercover jobs.
Meanwhile, NCIS Season 16 is also having another love affair in the office. Torres and Bishop are a good team in the field but they are on each other's throat too once in a while. NCIS co-showrunner Frank Cardea has teased that this will change in Season 16. The upcoming installment will feature the brewing romance between Nick and Eli.
"Torres and Bishop sort of... become close. We're glancing in that direction. If you go back in NCIS history, the 'Tiva' thing took many years to develop," he said (via CinemaBlend).
Cardea is referring to Tony DiNozzo (Michael Weatherly) and Ziva David's (Cote de Pablo) relationship. The two clearly have a feeling for each other but they never admitted it until Ziva left and Tony followed her in Israel. The two have a baby girl together which Tony's is now taking care of after Ziva died in a terror strike.
If Torres-Bishop romance is happening this season, this will be the second strike for Eli. She previously admitted to Gibbs that she is violating the latter's Rule No. 12, which is about not dating coworkers when she fell in love with NCIS translator Qasim Naasir (Rafi Silver). Gibbs will definitely not be thrilled about Torres and Bishop dating but many fans think it is about time for these agents to find another love.
Bishop divorced her husband who cheated on her. She fell in love with Qasim in Season 14 but he was killed in the same installment. As for Torres, he never had a relationship with a co-worker since he joined NCIS. He flirted with former NCIS agent Alex Quinn (Jennifer Esposito) in the past but that was before they work with Gibbs.
Whether or not the new romantic relationship in NCIS will suffer the same fate as Tony and Ziva's romance, fans will eventually find out in NCIS Season 16. The new season will kick off on September 25 at 8 p.m. ET on CBS.
© 2023 Korea Portal, All rights reserved. Do not reproduce without permission.