'NCIS: Los Angeles' Season 10 Spoilers: Deeks Is Coming Home; Kensi & The LAPD Detective Will Treat Fans With a Post-Christmas Wedding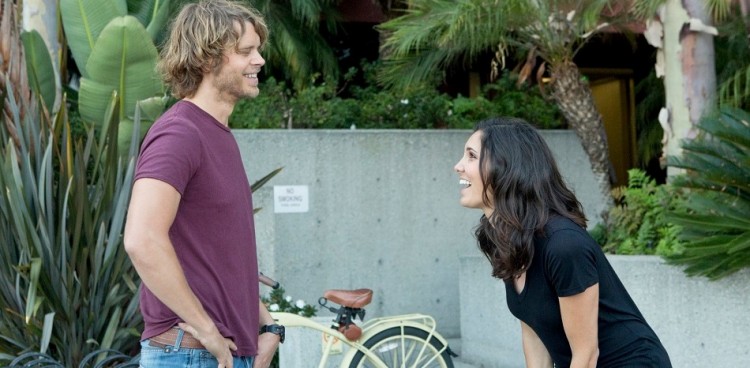 It is finally happening. After years of waiting, Kensi and Deeks are getting married in NCIS: Los Angeles Season 10. This also means that Deeks is coming home alive when the 10th season premieres in October.
NCIS: Los Angeles fans have been waiting to see Kensi (Daniela Ruah) walking down the aisle in her bridal gown and meet Deeks (Eric Christian Olsen) at the altar. Now, it has been confirmed that the Densi wedding is finally happening this season.
It looks like the couple will back in each other arms after their painful breakup in previous season's finale. NCIS: LA executive producer R. Scott Gemmill has revealed that the exchange of vows between the couple is happening right after Christmas, four years after they became a couple.
"We are excited to finally see that happen this year, probably after Christmas. A meme that developed between Kensi and Deeks, where he said she smells like sunshine and gunpowder. Their wedding will be a perfect example of that," executive producer R. Scott Gemmill told Entertainment Weekly.
A quick background on the love story of Densi, the shipper term used to describe the couple. The two first meet in Season 1. After Kensi's partner died in the line of duty, she was partnered with LAPD Detective Marty Deeks. The two bonded very well and did great in the field together. They eventually develop a romantic interest in each other but they continue to deny it.
Kensi and Deeks got separated for a while when the NCIS: LA snipper unexpectedly reassigned to Afghanistan on a confidential assignment in Season 5. When Kensi came back, the two decided to stop playing games and officially became an item in Season 6 Episode 11 which aired on December 15, 2014. Kensi popped the question (yes, she did) in Season 8 finale episode.
In Season 9 finale, Kensi broke off the engagement when Deeks insisted on both of them giving up their badges and have a less dangerous life with their children. Kensi couldn't make a promise to Deeks. Fans are thrilled to know that the two will rekindle romance next season.
But before the much-awaited union, the couple will have to escape Mexico first. Kensi and Deeks along with Callen (Chris O'Connell) and Sam (LL Cool J) were trapped in Mexico after their unsanctioned mission in the country goes south.
A rocket hit the car they were riding in while they are on the way to their rendezvous point. CBS earlier released some teaser photos for Season 10 which shows the injured Sam, Callen, and Kensi while wounded Deeks is also unconscious. Additionally, they will also have to face a DOD inquiry about their mission in Mexico when they finally return home. NCIS: Los Angeles Season 10 will premiere on September 30 at 9:30 p.m. ET on CBS.
© 2023 Korea Portal, All rights reserved. Do not reproduce without permission.