BLACKPINK To Collab With Dua Lipa? English Singer's Tweet Hints Possibility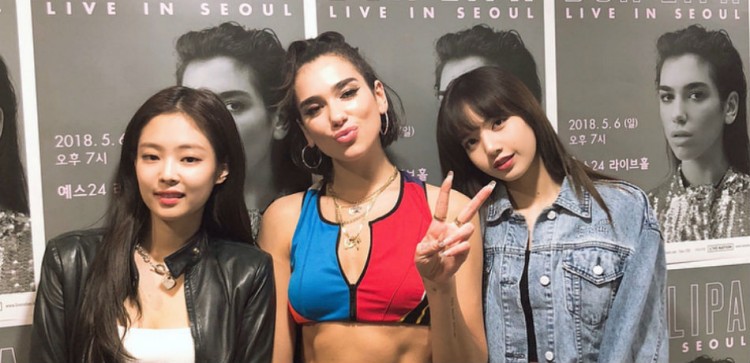 It's no secret that BLACKPINK is a fan of Dua Lipa. Two of the members, Jennie and Lisa, took time off to watch the English singer's concert in Seoul a few months back. So are they now ready for a collaboration?
On August 25, Dua Lipa sent BLINKs into a frenzy when she seemingly hinted that she would be collaborating with BLACKPINK. When a fan asked, "girl wait whAt tf do you have up your sleeve," the 23-year-old singer, songwriter, and model replied, "A few songs you guys already know and want. One you don't know about, but i'm excited to share with you. A couple collabs. I got you bb x."
While her response was vague and had no reference to BLACKPINK whatsoever, eagle-eyed fans found what seemed to be a hint of who she will be collaborating with. Due Lipa added a couple of emojis to her reply to the fan, and K-Pop fans just couldn't ignore the fact that she added a black heart and a pink heart to her message.
"DUA PINK IN YOUR AREAAAAAAA," one fan said, using BLACKPINK's very famous line. Omg the [black and pink heart emojis] makes me think that it's gonna be with blackpink but that's impossible," one doubted, while another fan replied to her saying, "There is nothing impossible in this world."
Although there is truth to what the fan said that there is nothing impossible in this world, the Dula Lipa and BLACKPINK collaboration remain speculation for now. But fans have already been going gaga over the tweet and have started to hope that the English singer and Jisoo, Jennie, Rose, and Lisa will make music together soon.
Meanwhile, BLACKPINK is proving time and time again that their music is slowly taking over the world. It is now confirmed that Jisoo, Jennie, Rose, and Lisa's popularity are not only limited to South Korea or Asia, but they are quickly gaining fans in the U.S. as well.
Music video reactions are quite popular on YouTube. Fans would record themselves watching their favorite artists or bands, so their viewers would see their genuine reaction.
In one particular video reaction, a couple of American college students were asked to react to BLACKPINK's "DDU-DU DDU-DU." Despite not understanding most of the lyrics, they were instantly impressed with Jisoo, Jennie, Rose, and Lisa's latest hit, and some even bopped their heads to the beat.
© 2023 Korea Portal, All rights reserved. Do not reproduce without permission.