MAMAMOO's Hwasa Chooses Her Favorite BIGBANG Member In Front Of Seungri, 'Where R U From' Singer Disappointed With Choice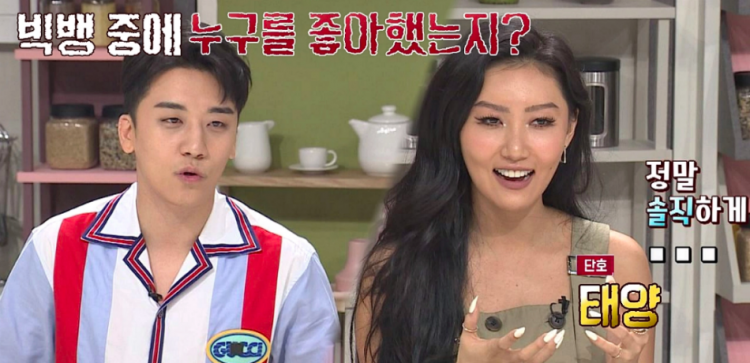 Just recently on JTBC's Please Take Care Of My Refrigerator, Mamamoo member Hwasa and BIGBANG member Seungri appeared and entertained the viewers. At one point, Hwasa talked about how she admired BIGBANG when she was younger.
Hwasa revealed that she had been a huge fan of BIGBANG ever since middle school. She shared, "My first and last concert was BIGBANG's."
After hearing her confession, Seungri felt that it only made sense to ask who her favorite member is. However, Hwasa played it first and said, "I don't like just one person in the group. I like everyone."
But since the 27-year-old singer, songwriter, record producer, actor, and entrepreneur was so persistent, Hwasa finally admitted that her favorite BIGBANG member is Taeyang, much to Seungri's disappointment.
"Please don't misunderstand," Hwasa said. This is only if I had to choose…It would be Taeyang."
Unsatisfied with her answer, Seungri immediately responded with, "He's married! He's married! (He doesn't count!)" Then, he forced Hwasa to say her second favorite member.
Unfortunately for Seungri, Hwasa chose G-Dragon as her next favorite BIGBANG member. Losing patience and desperate, he yells and asks who her third favorite member is. The hosts backed Seungri up and reminded the MAMAMOO singer that G-Dragon was in the army, so he also didn't count.
Hwasa eventually burst out laughing, aware of where the question was heading, so she finally chose Seungri as her third favorite member. Although the BIGBANG star believes that the 23-year-old singer and rapper felt forced to pick him, he thanked her anyway.
Meanwhile, Seungri had finally kickstarted his first solo tour in South Korea. It was previously reported that he would be enlisting after completing all of his solo engagements. He is the last member of BIGBANG to serve in the military.
It would take a couple more years to see G-Dragon, T.O.P, Taeyang, Daesung, and Seungri together in one stage again, but fans have been assuring the boys that they are willing to wait for them. Surely no one misses BIGBANG more than their maknae himself as he shared clips of himself with his hyungs during his concert.
© 2023 Korea Portal, All rights reserved. Do not reproduce without permission.