Sulli Shares Another Series Of Sexy Snaps; Fans Call Former f(x) Member 'Real Feminist'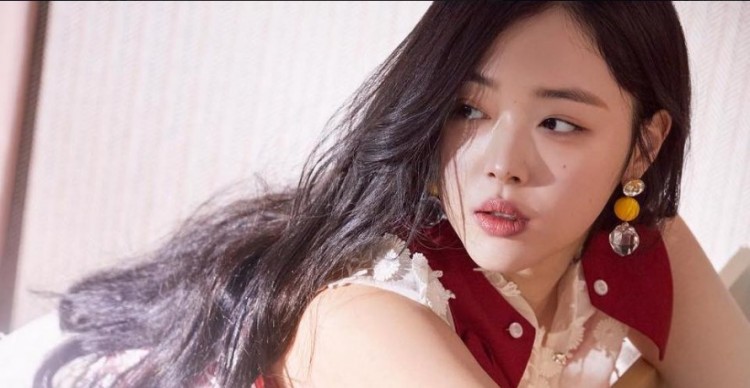 In spite of being criticized for her sultry pictures, fans believe Sulli represents "true feminism." In fact, some of her followers even admire her confidence and how she carries herself.
Sulli is once again getting the attention of everyone for posting a series of "braless" photos on Instagram. The 24-year-old star is currently in Berlin, Germany for the filming of her new reality show with a working title Jinri Shop, featuring how she runs her own pop-up store.
Recently, the former f(x) member gave fans a glimpse of her activities in the foreign country, per Koreaboo. Aside from the beautiful scenery, her braless fashion caught everyone's attention. To recall, Sulli was often criticized whenever she shared sexy snaps.
However, Sulli is not even bothered by these criticisms and continuously wears whatever she pleases. In fact, it looks like her followers are already used to her braless fashion that they even admire her for her self-confidence.
"It really looks like she's living just for herself and not considering what anyone thinks while we're always busy thinking about how others perceive us," a fan commented. Another noticed that Sulli has been receiving positive comments nowadays; thus, they are beginning to like the South Korean singer.
Others commented that Sulli is representing true feminism. Fans said that the model is inspiring and advocating women's rights. There are also comments asking others to stop criticizing the star for opting for braless fashion. Another one added that she is now turning into a celebrity and a real feminist. This fan even predicted that her time to shine might come next year.
Sulli's new reality show, Jinri Shop, is currently in production in Berlin, Germany. So, fans are all hoping to see more updates about her and the upcoming series on her social media pages.
According to Soompi, SM Entertainment confirmed that Sulli was flying to Germany on June 30 to do a new reality show about her pop-up shop. Here, fans would see how the star manages her own store.
Jinri Shop is produced by SM CCC LAB, while the producing director is Kim Ji Wook. SM Entertainment has yet to announce the network it will air on as it is not yet decided which it will choose.
© 2022 Korea Portal, All rights reserved. Do not reproduce without permission.