'What's Wrong with Secretary Kim' Episode 11 Spoilers: Truth Behind Mi So's Collapse Threatens Fragile Relationships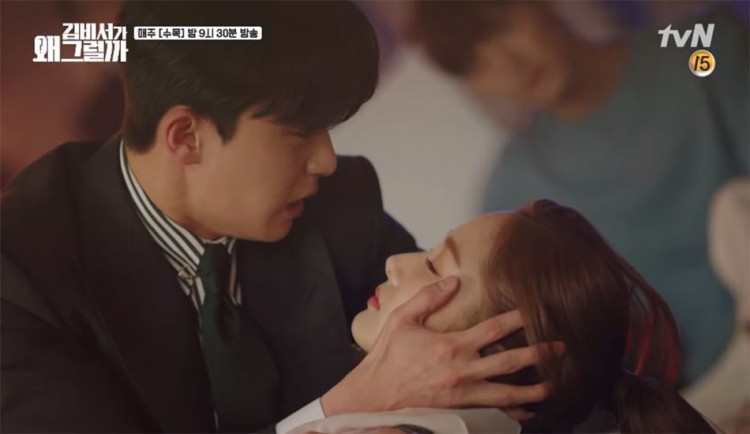 The unveiling of a childhood secret will force beloved characters to do something unexpected in What's Wrong with Secretary Kim Episode 11. Latest spoiler news tease of a confrontation between brothers and a potential crack in a new couple's relationship.
What's Wrong with Secretary Kim Episode 10 unveiled several shocking details that shed more light on Young Joon (Park Seo Joon) and Mi So's (Park Min Young) dark childhood. Aired on July 5, the said episode tackled Mi So's continued search for the boy who saved her when she was young. Adamant that Young Joon was her savior instead of Sung Yeon (Lee Tae Hwan), the efficient secretary even met with the two brothers' mother (Kim Hye Ok) to get more information about the horrific kidnapping event.
Despite declining to provide details to Mi So, the Lee family's matriarch decided to reveal the truth to Sung Yeon. The novelist was in disbelief after learning that it was Young Joon who was kidnapped as a child and not him. Featured in What's Wrong with Secretary Kim Episode 10, he became distraught after his mother's revelation and unconsciously went searching for Mi So who was attending a product launch event with Young Joon. Things soon became problematic when, upon seeing an onstage performance of a woman wearing red heels, Mi So lost consciousness after having an intense flashback that showed her what really transpired the day that she was abducted.
With Mi So regaining her childhood memories, the discovery might impact her new romantic relationship with Young Joon. The narcissistic boss appears to be hesitant in sharing what happened to him and his brother. A scene in the teaser clip for What's Wrong with Secretary Kim Episode 11 showed Mi So tearfully reminding Young Joon that the truth will eventually be revealed even if he tries to keep it a secret from everyone.
Moreover, Young Joon's relationship with Sung Yeon will become more strained in What's Wrong with Secretary Kim Episode 11. The said businessman will confront his brother and will even blame him for Mi So's collapse. Meanwhile, Sung Yeon will begin to remember some of his childhood memories, but the truth might break the said novelist's relationship with his family.
What's Wrong with Secretary Kim Episode 11 will be released on July 11. The drama airs every Wednesday and Thursday on tvN.
© 2018 Korea Portal, All rights reserved. Do not reproduce without permission.