BIGBANG's T.O.P Military Update: K-Pop Idol Spotted Working Hard During Duty [WATCH]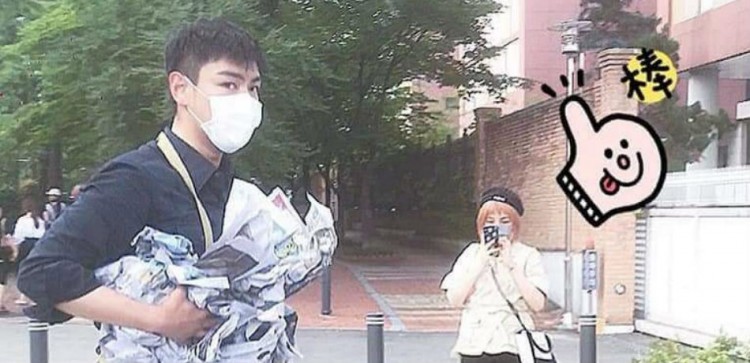 BIGBANG's lead rapper T.O.P had silently continued his mandatory military service after he was sentenced for his marijuana scandal. However, unlike G-Dragon, Taeyang, and Daesung, who are also currently completing their compulsory duties, there were not many updates about T.O.P until now.
The 30-year-old South Korean rapper, singer, songwriter, record producer, and actor had a tough year last year. He was suspended from his military duties due to his marijuana controversy with Han Seo Hee. The YG Entertainment trainee happened to be the BIGBANG star's girlfriend at the time.
The embarrassment for failing his family, friends, and fans eventually took a toll on T.O.P as he was found unconscious by his fellow soldiers at the time. The BIGBANG rapper was then rushed to the hospital where doctors later revealed that he took an excessive amount of anxiety pills.
Now, T.O.P has resumed his military service and is trying to put his mistake behind him and move on from it. Although his duty had been kept as low-key as possible due to the sensitivity of his case, fans just couldn't help themselves but check up on him to learn how he is doing. He is stationed in an art center.
Despite wearing a mask, people still recognized T.O.P and started to take some pictures and videos. Even though a crowd started to form as he was busy doing his duties, he didn't let the attention bother him or affect his work.
Based on the recent pictures and video of T.O.P, the BIGBANG star appeared to be doing really well. The K-pop idol also healthily put on some weight. As expected, fans were overjoyed to see that T.O.P had adjusted well in his service.
"Am I the only one who is about to cry? Am I just overreacting? HAHAHAHA! I'm so glad that he's doing well," one fan said. "We're all waiting for your safe return Tabi oppa please always stay healthy and happy. We miss you so much," another one commented.
© 2023 Korea Portal, All rights reserved. Do not reproduce without permission.