'What's Wrong With Secretary Kim' Spoilers: Young Joon, Mi So's Childhood To Be Revealed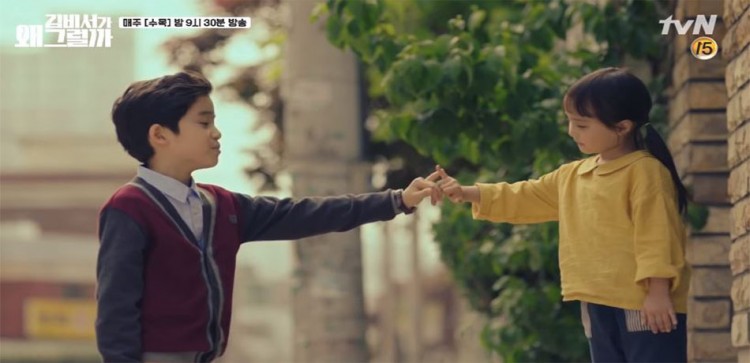 Exciting things are set to happen in the upcoming episodes of What's Wrong with Secretary Kim. Avid fans of the Park Seo Joon and Park Min Young drama will soon witness heartbreaking and heartwarming scenes from the past that changed the lives of beloved characters.
Latest spoiler news for What's Wrong with Secretary Kim teased of the appearance of younger versions of Young Joon (Park Seo Joon) and Mi So's (Park Min Young) parents. Several flashback scenes will take viewers on a trip to the past that will show the said couple's parents as they hurtle through life's challenges.
Previous episodes of What's Wrong with Secretary Kim already unveiled Young Joon and Mi So's similar childhood experiences that involved a kidnapping and a scary looking woman. Young Joon was even scarred after the said event with a trauma that prevented him from kissing Mi So and an injury that left his ankles with cable tie marks. Despite the frightening situation, the 5-year-old Mi So found a friend in the young boy who helped her escape from the house where they were kept captive.
Several years after the horrific incident, Mi So became confused with the identity of the said boy after having discovered that it was Young Joon's brother Sung Yeon (Lee Tae Hwan) who was abducted when he was young. However, clues that she discovered while talking with the two brothers led her to believe that the boy in her past might be Young Joon.
The upcoming episodes of What's Wrong with Secretary Kim will help shed light on Young Joon and Mi So's mysterious past. A flashback scene will feature the younger versions of the said CEO's parents looking distraught at seeing their son lying on a bed. Portrayed by Kim Hye Ok and Kim Byung Ok, Young Joon's mom and dad had worried looks on their faces as they carefully watched a doctor tending to the sick boy.
Another flashback scene to be unveiled in upcoming What's Wrong with Secretary Kim episodes will showcase the sweet bond between a young Mi So and her parents. In the drama's latest teaser photo, the trio appears to be enjoying a trip to the beach with Mi So's mother (Jung So Min) playing with her daughter in the sand while Mi So's musician father (Lee Min Ki) observes his family from the sidelines.
What's Wrong with Secretary Kim Episode 9 will be released on July 4. The drama airs every Wednesday and Thursday on tvN.
© 2023 Korea Portal, All rights reserved. Do not reproduce without permission.