MOMOLAND 2018 Update: Nayun Takes Brief Break From Promotions Due To Health Reasons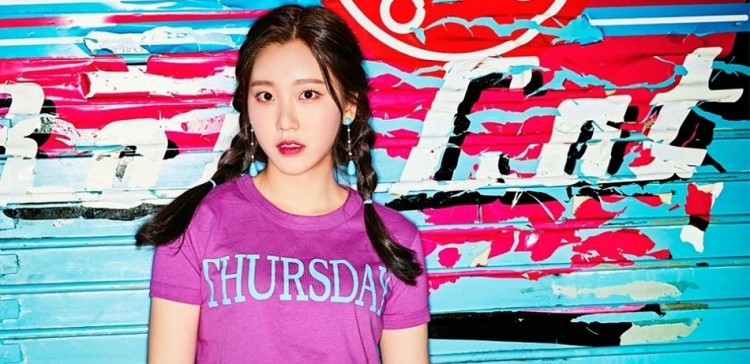 Momoland will be promoting their latest album with only eight members for the time being as Nayun is taking a break because of health reasons. The group is currently promoting their latest album Fun to the World, and its title track "BAAM."
MOMOLAND's label, MLD Entertainment, released a statement explaining Nayun's situation. The agency revealed that Nayun has benign paroxysmal positional vertigo (BPPV). MLD said Nayun visited the hospital for check up because of dizziness. She was later diagnosed with BPPV, a disorder that causes her episodes of dizziness.
"Although Nayun herself has expressed a strong determination to participate in MOMOLAND's activities, we decided that she would focus entirely on treatment because Nayun's health is our top priority... Due to these circumstances, MOMOLAND will be promoting as eight members for the time being. We ask that the group's fans to cheer her on so that Nayun can quickly recover and return to MOMOLAND," MLD Entertainment added (via Soompi).
The symptoms of BPPV, such as dizziness and vertigo, commonly last less than a minute. It may disappear for some time but could also recur.
This is not the first that Nayun experienced a health scare. In November 2016, she was hospitalized after the group's performance on MBC's Music Core. The girls were on their way to their next performance at the WebTV Asia Awards 2016 at the Korea International Exhibition Center in Goyang when Nayun complained about having abdominal pain.
Nayun is not the first Korean artist who was diagnosed with the ear problem. In 2015, South Korean radio DJ and comedienne Lee Gook Joo were also found to have otolithiasis. It is an inner ear problem that causes repeated episodes of vertigo that could last for seconds. It can be treated with surgery or resting for the doctor's prescribed amount of time.
For now, Hyebin, Yeonwoo, Jane, Taeha, Daisy, JooE, Ahin, and Nancy will be promoting their fourth EP. MOMOLAND released their comeback album Fun to the World and the title track "BAAM" last week. The music video for the single has so far garnered 14 million views on YouTube.
Aside from a hit track, MOMOLAND is also savoring its victory over its critics. South Korea's Ministry of Culture, Sports, and Tourism has cleared MOMOLAND on the accusation of chart manipulation. Earlier this year, the group was accused of sajaegi or chart manipulation after the girls' album Great! sold over 8,000 copies in just one day.
© 2019 Korea Portal, All rights reserved. Do not reproduce without permission.