BLACKPINK Catches Young Americans' Attention With Their Music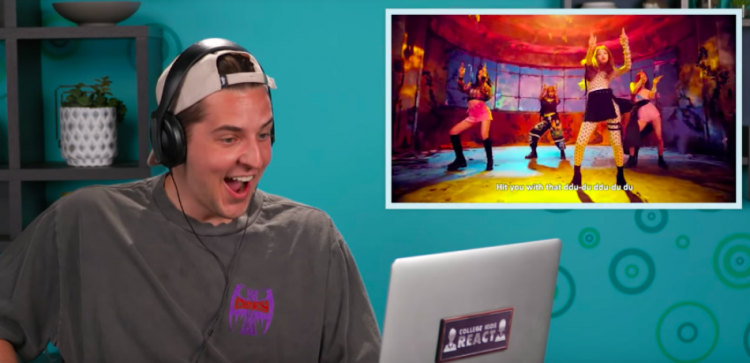 BLACKPINK is proving time and time again that their music is slowly taking over the world. It is now confirmed that Jisoo, Jennie, Rose, and Lisa's popularity are not only limited to South Korea or Asia, but they are quickly gaining fans in the U.S. as well.
Music video reactions are quite popular on YouTube. Fans would record themselves watching their favorite artists or bands, so their viewers would see their genuine reaction. However, not all reactors are fans of the artists and groups that they are reacting to. In fact, some of them don't even know who they are watching.
In one particular video reaction, a couple of American college students were asked to react to BLACKPINK's "DDU-DU DDU-DU." Despite not understanding most of the lyrics, they were instantly impressed with Jisoo, Jennie, Rose, and Lisa's latest hit, and some even bopped their heads to the beat.
"The quality. Just the fact that they have such a huge production like this is amazing to me," one student said. "Look at all the colors! Look at how much fun they're having," another one shared. One student was clearly in awe of BLACKPINK, saying "Wow! I'm completely captivated by every single shot."
The same college students were then showed a medley of BLACKPINK's other songs. Not surprisingly, they were all more than willing to see more of the girls and were even more impressed.
"They've literally done the style of every song on the top 100. They're not just doing one genre," one student said. "I just can't believe that a group could be this talented. That's really what's blowing me away right now," another one commented. One student even went on to say that he wishes there will be music like this in the U.S., "I wish American pop could be this happy and make you feel this good."
With these reactions from American college students alone, it's already a good hint that BLACKPINK would do great if they'll expand their brand in America. In fact, earlier reports revealed that top U.S. labels have been showing interest in Jisoo, Jennie, Rose, and Lisa, which led to speculations that they might be debuting in America soon.
Stay with Korea Portal for more updates of BLACKPINK's possible debut in the U.S. In the meantime, watch these American college students reacting to Jisoo, Jennie, Rose, and Lisa's music videos.
© 2023 Korea Portal, All rights reserved. Do not reproduce without permission.