BLACKPINK 2018: Rosé, Jennie, Jisoo Explain Gush Over Lisa's Powder Throwing Technique, Improving Korean Skills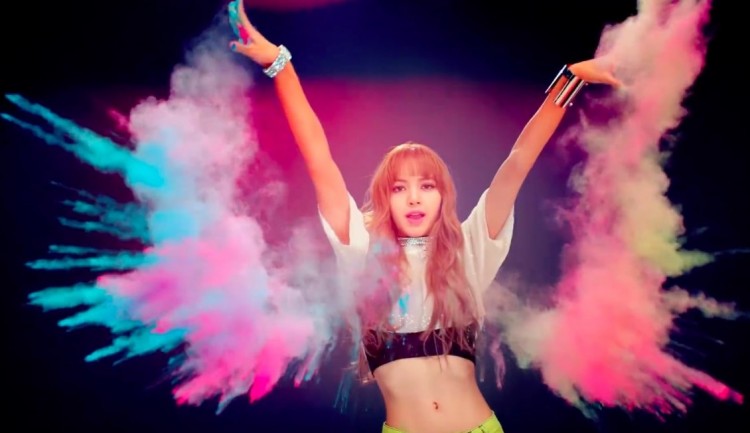 They might be in a group, but there is little doubt that each member of BLACKPINK is distinct and unique in her own way. Rosé, Jennie, Jisoo, and Lisa each have their own specialties and personal style that blends so well to make them a great team. Interestingly, the other members have pointed out that Lisa has a special talent. The maknae is the only member who can make throwing powder look so effortless.
BLACKPINK's new music video "DDU-DU DDU-DU" certainly features several awesome sequences that highlight each member. However, Blinks have noticed that Lisa is the only one seen doing the iconic powder throw that starts the MV off. Luckily, fans finally got an explanation from the idols themselves.
BLACKPINK recently visited the SBS radio show Boom Boom Power where the four members discussed the amazing success of their comeback album Square Up. In addition to that, Jennie, Jisoo, Lisa, and Rosé shared some interesting behind-the-scenes details when they were working on the "DDU-DU DDU-DU" MV.
According to the idols, all of them were supposed to take turns throwing colored powder into the air. However, Lisa was the only one who could make the powder fly properly so the production team decided that the task would fall on the maknae. The BLACKPINK member revealed that she practiced the right way to flick her hands while throwing the powder. The result of her efforts certainly made for one of the most memorable moments in the "DDU-DU DDU-DU" MV. Rosé even declared that Lisa was the only person who could perform the powder throwing since "she did it in a cool way."
The BLACKPINK idols also praised their Thai member on the vast improvement in her Korean-speaking skills. According to Rosé, Lisa has become more comfortable speaking Korean on a regular basis. "When something surprising happens, I thought that Lisa would react in Thai, but she naturally says things like 'Oh, I'm surprised!' or 'Oh my gosh!' in Korean," she said before adding that the maknae would even "even call her mother 'mom' in Korean on the phone."
© 2023 Korea Portal, All rights reserved. Do not reproduce without permission.