'Outlander' Beats 'Game Of Thrones'; Wins Best Fantasy TV Series At The Saturn Awards For Three Consecutive Years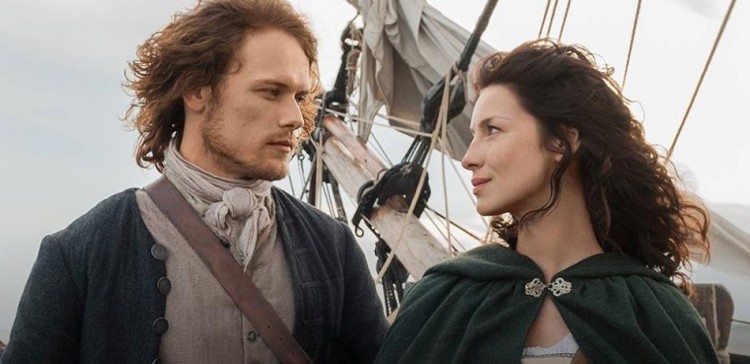 The cast and crew of Outlander, as well as it fans, are rejoicing after the show took home the Best Fantasy TV Series award from the Saturn Awards 2018. The Starz time-travel drama has beaten six other fantasy shows including HBO's Game of Thrones and another Starz original series, American Gods.
However, both lead stars Sam Heughan (Jamie Fraser) and Caitriona Balfe (Claire Fraser) were not as fortunate in their respective category. Heughan was nominated for Best Actor on TV, but the trophy goes to Kyle MacLachlan of Twin Peaks. Balfe, on the other hand, lost to Star Trek: Discovery actress Sonequa Martin-Green.
Balfe had been nominated four times for Best Actress at Saturns. She won in 2015 and 2016. Heughan also received four nods from the same awards event but hasn't got a win as of yet.
Although Heughan and Balfe failed in their respective categories, Outlander did not go home empty-handed and got its third Best Fantasy TV Series trophy from Saturns. Overall, Outlander had three nominations this year.
The Outlander clan quickly took to social media to extend their congratulations to the cast and crew. Many, however, were disappointed that Heughan and Balfe failed to bring home an award.
Outlander author Diana Gabaldon received the award on behalf of the show during the awards ceremony at Burbank, California Wednesday night. Gabaldon shared on Twitter two photos of the Saturn trophy she received from the awards-giving organization that honors the best in different genres in film, television, home media releases, and theater.
The next announcement of nominees for the best shows, actors, and actresses on television will be from Primetime Emmy Awards. Outlander, as well as its stars Sam Heughan and Caitriona Balfe, are expected to receive nods from Emmys this year.
In the previous years, Emmys overlooked the performances of the Outlander stars. Many fans believe that it is about time that Emmys give recognition to the acting skills of on-screen couple Heughan and Balfe.
The series has so far nominated at the Emmys for Best Original Dramatic Score for the episode "Sassenach" from its debut season in 2015. In Season 2, the show got nods for Best Costumes in Period/Fantasy Program for the episode "Not in Scotland Anymore" and Best Production Design For a Narrative Period Program. The show has yet to take home an Emmy trophy.
The list of nominees for this year's Emmys will be announced on July 12. The awards night is expected to air in September.
Meanwhile, Outlander Season 4 is already on its last week of filming. Heughan announced that they are about to wrap up production anytime soon. The fourth installment of the romance drama is scheduled to premiere in November.
Congrats to #SaturnAwards2018 BEST FANTASY TV Series winner #Outlander, is accepting #DianaGabaldon @Writer_DG
PRESENTERS: #MartinKove & #LewisTan#SaturnAwards pic.twitter.com/HRIp9DPaoo — Saturn Awards (@SaturnAwards1) June 28, 2018
© 2019 Korea Portal, All rights reserved. Do not reproduce without permission.