BLACKPINK 2018: Jennie, Jisoo, Lisa, Rosé Explain The Significance Of Popcorn In 'DDU-DU DDU-DU' Music Video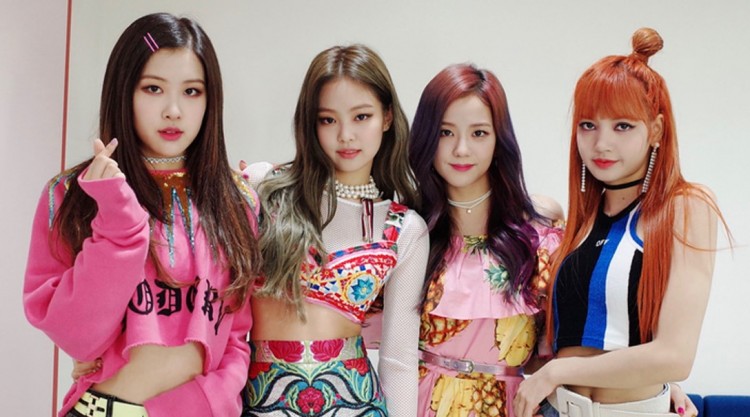 There is little doubt that BLACKPINK is set to dominate with their new album Square Up. After all, the single "DDU-DU DDU-DU" has already earned more than 100 million views since its release in mid-June. Nevertheless, it looks like Rosé, Lisa, Jennie, and Jisoo are still determined to enjoy the simple things in life like a yummy bucket of popcorn.
Blinks are well aware that BLACKPINK is a fun-loving bunch. Although Lisa, Rosé, Jisoo, and Jennie take their job seriously, the members of the girl group couldn't help but make jokes or funny faces while shooting the music videos. It has just been revealed that Jennie was somehow attached to the bucket of popcorn that was used as a prop in the "DDU-DU DDU-DU" MV.
BLACKPINK was a recent guest in MBC FM4U's Kim Shin Young's Hope Song at Noon where the idols made a first place promise if their single take the Number One spot. Jennie suggested that she, Rosé, Jisoo, and Lisa will throw popcorn up in the air and try to catch it with their mouths. The Human Gucci explained that this was something she enjoyed doing while filming the "DDU-DU DDU-DU" MV.
"During filming for our music video, we throw popcorn up," Jennie stated. "If we have the opportunity, we want to try to have a fun performance where we throw popcorn up and catch it with our mouths." There is little doubt that BLACKPINK will be tossing popcorn before the end of the week.
The pressure of orchestrating a major comeback was understandably difficult for the girl group. The members of BLACKPINK have just admitted that they were concerned that fans had already forgotten about them. However, Jennie, Rosé, Lisa, and Jisoo were in for a sweet surprise when "DDU-DU DDU-DU" was released.
"We wondered if people still remembered BLACKPINK, since our hiatus was long, so when we first saw our ranking, we were so surprised," Jennie said. "When we saw that a b-side was also charting high, we were so moved."
© 2023 Korea Portal, All rights reserved. Do not reproduce without permission.