Twice's Nayeon, 'Sensei Kunshu' Takeuchi Ryoma's Cute Chemistry Catches Fans' Attention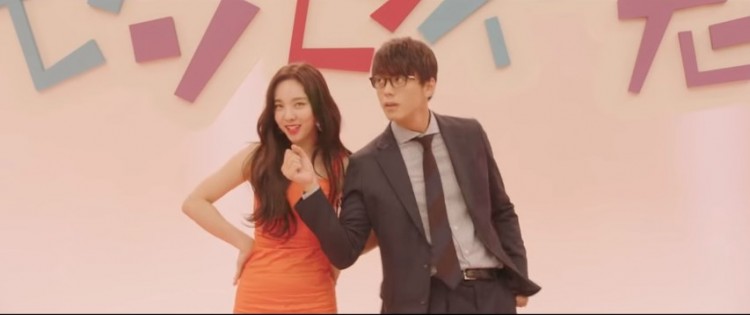 Fans can't get over Nayeon and Takeuchi Ryoma's cute chemistry on-screen when the two worked together for the music video of "I Want You Back." The cover song of Jackson 5's original 1969 track was specially made for the upcoming Japanese film Sensei Kunshu.
The newly-released music video shows the TWICE members (Nayeon, Jeongyeon, Momo, Sana, Jihyo, Mina, Dahyun, Chaeyoung, and Tzuyu), along with the Sensei Kunshu actors (Takeuchi Ryoma, Hamabe Minami, Sato Taiki, and Kawaei Rina). After fans saw the clip, it looked like they were caught by Nayeon and Takeuchi's scenes together.
Nayeon and Takeuchi Ryoma can be seen dancing together. The Sensei Kunshu actor even held an imaginary mic for the TWICE member while she was singing. As they have a different kind of chemistry, fans started to ship these two.
"Wow, their chemistry!" a follower said. Another one revealed that she is starting to get obsessed with Nayeon and Takeuchi Ryoma. In fact, a lot of them are saying that the Sensei Kunshu actor's and Twice member's attractive features look cute together.
According to Koreaboo, there was also a behind-the-scenes clip that showed Nayeon and Takeuchi Ryoma might be starting to get close as they sent approved hand signs to each other. From the looks of it, this may have happened after they shoot "I Want You Back" music video.
Hence, a fan commented that the Japanese girls may now be jealous of Nayeon as she had the chance to dance with Ryoma Takeuchi. However, this netizen stood itself corrected and said that the famous Japanese actor might be the lucky one instead.
Meanwhile, the upcoming Japanese film, Sensei Kunshu, is based on the popular manga series with the same title. It is set to be released on August 1 in Japan. The song, "I Want You Back," on the other hand, will be a part of TWICE's forthcoming album, BDZ, which will be out on September 12.
This will be the first time that TWICE is going to release a full-length Japanese album, per Koreabizwire. It will be featuring five new songs along with the girls' other hit singles like "One More Time," "Candy Pop," and "Wake Me Up." And as a part of their promotion, they will have a Japanese concert tour. They will be visiting four cities in Japan and staging a total of nine concerts.
© 2023 Korea Portal, All rights reserved. Do not reproduce without permission.