Son Ye Jin Exudes Sexy Elegance In Photoshoot, Jung Hae In Co-Star Talks Potential 'Something In The Rain' Season 2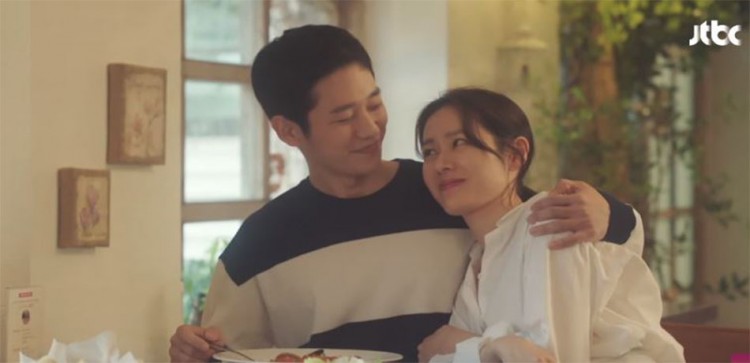 Son Ye Jin returns to the limelight in a new photo shoot for a local magazine. In an accompanying interview, the actress talked about her acting projects and recounted her experience filming the drama Something in the Rain (also known as Pretty Noona Who Buys Me Food).
The South Korean star recently showed off her curves in a photoshoot for Harper's Bazaar magazine. Donning several chic clothes, Son Ye Jin embodied the image of a confident woman who is not afraid to display her sexy side.
Wearing a tiger print dress with ruffled sleeves and a flirty hem, the Something in the Rain actress looked fierce as she sat on the hood of a white-colored car. To complete the ensemble, Jung Hae In's former co-star wore wide-rimmed sunglasses and a small black bag with silver stud embellishments.
In another photo, the Personal Taste star displayed her shapely legs while wearing a dark blue dress. Adding a layer a sexiness to the shoot, Son Ye Jin had her hair flowing down her shoulders in a tousled look. The actress also wore a fashionable navy lace ensemble that she partnered with a brown colored woven belt, as well as a bright-colored top with floral prints.
Pictures for the said magazine spread were taken in the southern part of France. Son Ye Jin traveled to Antibes and even posed on top of a low stone wall with the blue sea as her backdrop.
Talking with Harper's Bazaar magazine about her acting performance in the melodrama Something in the Rain, the actress recounted her excitement in portraying a woman falling in love. Son Ye Jin played the role of Jin Ah who suddenly developed romantic feelings for her best friend's younger brother Joon Hee (Jung Hae In).
Meanwhile, Son Ye Jin's on-screen pairing with Jung Hae In also became a hot topic among avid K-drama viewers. Given the way that the said series ended, many fans expressed their wish for showrunners to add another season.
In an earlier interview, Son Ye Jin commented on the possibility of filming Something in the Rain Season 2. Sharing her thoughts on a potential storyline that writers can use, the actress commented that she would like to see Jin Ah and Joon Hee tackling life as a married couple. However, she stated that she is still unsure if the drama will have a second season.
Something in the Rain released its premiere episode on March 30. The Son Ye Jin and Jung Hae In drama ended its 16-episode run on May 19.
© 2022 Korea Portal, All rights reserved. Do not reproduce without permission.