Jung Hae In, Son Ye Jin Dating Rumors: 'Pretty Noona Who Buys Me Food' Stars Might Be The Next Song-Song Couple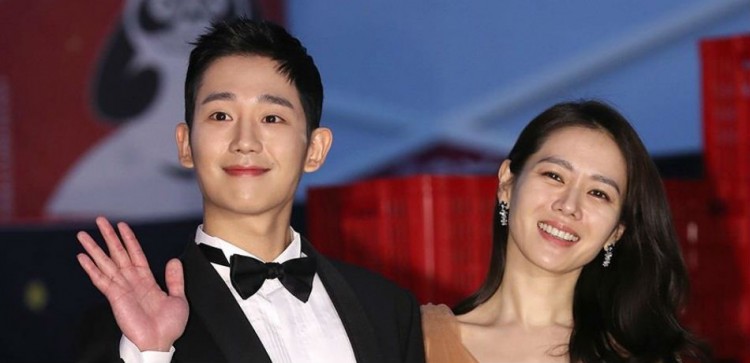 Jung Hae In and Son Ye Jin are now being dubbed as the next Song Koong Ki and Song Hye Kyo. The Pretty Noona Who Buys Me Food (also known as Something in the Rain) co-star's undeniable chemistry led fans to believe that the pair may have already taken their on-screen romance to off-screen, just like the Song-Song couple, who starred in the 2016 mega-hits K-drama Descendants of the Sun.
In a recent interview, Jung Hae In shared that even his friends are wondering if he and Son Ye Jin are a couple in real life. The 30-year-old South Korean actor then revealed the real status of their relationship.
"Many of my peers ask if I'm really dating her. They say even though they know we're not dating, they want us to date and are truly rooting for our relationship. They also told me that you never know what can happen," Jung Hae In said. "I feel proud whenever I hear those kinds of comments. I tried my best to act with sincerity. I'm proud that my sincerity was delivered and I'm thankful."
Although he clearly stated that they are not dating, his friends were right when they said that anything could happen. If Jung Hae In and Son Ye Jin end up being together in real life, they are definitely not the only ones who found love on the set.
Take Song Koong Ki and Song Hye Kyo's relationship for example. The Descendants of the Sun stars were heavily shipped to each other after rumors started to swirl that a possible romance is brewing between the two.
However, despite all the dating rumors surrounding them, Song Koong Ki and Song Hye Kyo never addressed all the speculations regarding their status until they announced that they were engaged and ready to be married. The Song-Song couple tied the knot on October 31, 2017, at Youngbingwan, Hotel Shilla in Seoul.
Just like Song Koong Ki and Song Hye Kyo's age gap, Son Ye Jin is also older than Jung Hae In. And just like the Song-Song couple, the Something in the Rain stars could take their working relationship to the next level. For now, it is safe to say that they are just enjoying doing their job, and the chemistry might just be a result of their amazing acting skills.
© 2021 Korea Portal, All rights reserved. Do not reproduce without permission.