Song Hye Kyo Pregnancy Rumors: Song Joong Ki's Wife Talks About Song-Song Couple's Baby Plans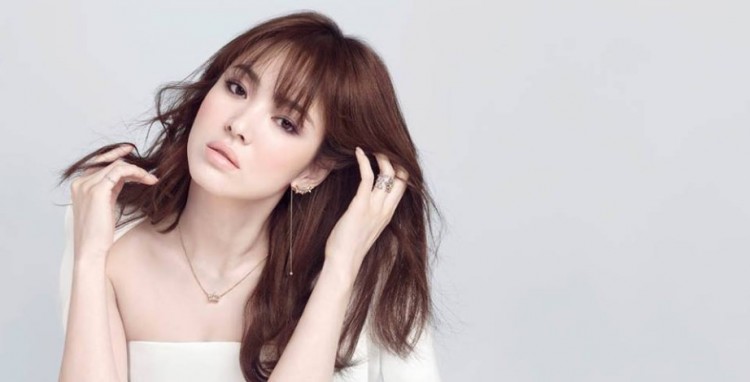 Song Hye Kyo is often surrounded by pregnancy rumors since she got married to Song Joong Ki. In fact, it even started at the time their marriage was announced. Now, the hearsays once again are ignited as the 36-year-old actress recently talked about family planning at the Omega store's opening in Hong Kong.
At the event, the media can't help but ask Song Hye Kyo about her plans of having a baby when she congratulated Canto-pop Heavenly King Leon Lai for becoming a father. "Soon, naturally," the Descendants of the Sun actress said, per Yahoo Taiwan.
As the reporters seemed to be unsatisfied with her answer, they once again asked Song Hye Kyo about family planning. Song Joong Ki's wife explained that she doesn't know when they will exactly have a baby, but she strongly believes that "it will come soon." "Let the nature takes its course," the Full House star added, via Hellokpop.
Song Hye Kyo and Heavenly King Leon Lai have been friends for 10 years. Unfortunately, because of her busy schedule, Song Joong Ki's wife can't visit her longtime pal and his new baby girl. Although the Autumn in My Heart actress is not yet seen on the small screen, she is occasionally seen at different fashion and lifestyle events.
It looks like the fans of the Song-Song couple are eager to see Song Hye Kyo and Song Joong Ki to have a baby of their own. In fact, when the Running Man star returned home after attending the 2017 MAMA in Hong Kong, he was seen carrying a book with a word "baby" on it. This made fans quickly assumed that his wife was already pregnant.
There were several Chinese media outlets reported that Song Joong Ki bought a book regarding baby care for Song Hye Kyo. However, it was later revealed that it was a gift from a fan; thus, the reports about the actress' alleged pregnancy were not true and merely rumors. One of the Song-Song couple's followers even confirmed that it was just a present.
According to All Kpop, the netizens criticized these media outlets for reporting false news about Song Joong Ki and Song Hye Kyo. Their fans, too, asked them to please stop bothering the Descendants of the Sun stars. A fan even commented that they should just write reports that were thoroughly checked. Some of them even said that the attention they're giving the Song-Song couple "is just too much."
© 2023 Korea Portal, All rights reserved. Do not reproduce without permission.