EXO's Suho Admits He Is 'Immature'; No Issues With His 'Student A' Co-Star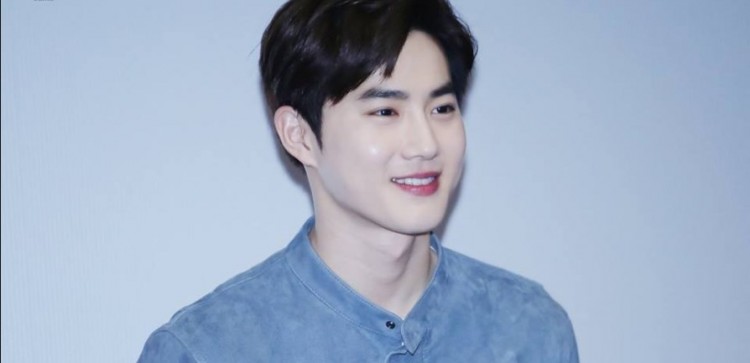 EXO's Suho and Kim Hwan Hee will be leading the movie adaptation of the popular Korean webtoon, Student A, as Jae Hee and Mi Rae. At the press conference held on Sunday, June 4, the upcoming film cast members talked about their take in the movie and the Rich Man, Poor Woman star's age difference from the lead actress.
Suho is now 27-years-old while Kim Hwan Hee is just 15-years-old. So, a lot of fans wonder how did the EXO member manage to work with his younger co-star. "I didn't really feel the age difference at all," he said, per All Kpop.
Suho admitted that he is kind of immature while Kim Hwan Hee is mature, so they quite get along. He didn't even feel their 12 years gap; thus, he has no issues with his female co-star. "We enjoyed filming very much," he added.
Talking about Student A, Suho acknowledged his acting skills and wondered if he should have been happier or more upbeat upon seeing the movie, Soompi reported. However, he knows there is a reason behind his character's "quirky actions, odd behavior, and funny expressions." So, what he did is just analyzed Jae Hee's emotions.
On the other hand, Kim Hwan Hee also talked about her portrayal of Mi Rae in Student A. As her character didn't have a lot of lines at the film's start, she had to show her role's emotions through her eyes and expressions. But, the film's director, Lee Kyung Seob, didn't want Mi Rae to have a lot of different expressions in the movie, so she made little adjustments to portray the role.
Student A tells the story of Mi Rae, a talented writer who loves gaming. However, in spite of her many talents, she still has no self-confidence. The first two friends, Baek Hab (Jung Da Bin) and Tae Yang (Yoo Jae Sang), she has ever made hurt her but she will get the help of Jae Hee.
But unlike the webtoon, the film version of Student A will be a little different. Lee Kyung Seob revealed that the original webtoon narrates Mi Rae's inner thoughts and this won't be seen in the movie. As revealing the inner thoughts and feelings of Kim Hwan Hee's character is an important part of the storyline, they made a different approach to do this.
At the beginning of Student A, fans are about to see a little fantasy. But at the movie's second half, Mi Rae's growth will be revealed. "I hope that overall, the film isn't seen as just the story of a girl's growth," Lee Kyung Seob said. Also, some characters will be a little different from the movie. Here, the teachers won't be seen as "benevolent figures." Also, there are "no proper adults" as the director wants to unveil a better reflection of today's society. The film will be released on June 20.
© 2019 Korea Portal, All rights reserved. Do not reproduce without permission.