BTS 2018: V, Suga, Jin, Jungkook, RM, Jimin, J-Hope Drop Clearer Sound Of 'Spring Day' Brit Rock Remix; Expected To Be Featured At 2018 BTS Festa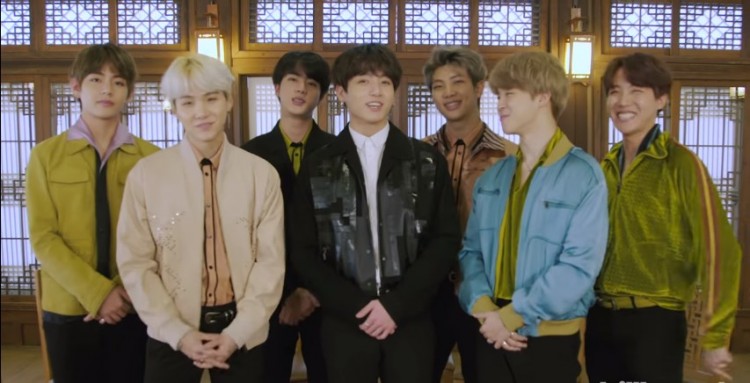 Before their much-awaited 2018 BTS Festa happens, BTS dropped a Brit-rock remix of their hit song "Spring Day." From the looks of it, V, Suga, Jin, Jungkook, RM, Jimin, and J-Hope are now working hard and preparing for the celebration of their debut's anniversary.
According to All Kpop, BTS dropped a Brit Rock remix of "Spring Day" on SoundCloud on Sunday, June 3. The uploaded song has a caption, "Opening Ceremony," and believed to be featured at the upcoming 2018 BTS Festa.
"Spring Day" is BTS's first song that got into the Bubbling Under Hot 100 chart, per Billboard. According to the SoundCloud credits, the track's rock version was performed by the hitmakers band, Ghost.
To recall, "Spring Day" was released in February 2017. It was first unveiled at the 2017 year-end music festival of the South Korean channel KBS on December 29 of the said year. It was BTS's second song that has a rock version.
Now, the ARMY will have the chance to listen to "Spring Day" without any kind of noise and has a clearer sound. "Spring Day" Brit-rock remix followed the release of the extended cut of BTS's "Fake Love" on Friday, June 1.
- . . . - . . . . . - . . . . -
Opening Ceremony#2018BTSFESTA
(https://t.co/lr6UHx7uWS) — BTS_official (@bts_bighit) Hunyo 3, 2018
Meanwhile, this year will be BTS's fifth anniversary since they formally debuted as a group on June 12, 2013, with their first song, "No More Dream." V, Suga, Jin, Jungkook, RM, Jimin, and J-Hope are celebrating this day yearly with a special event called BTS Festa. Here, the boys share new contents and special gifts for the ARMY before the big day happens.
Just last week, BTS officially announced the start of 2018 BTS Festa with a video teaser. Here, the "Fake Love" hitmakers revealed some important details about their much-awaited event's timeline. Fans can expect to see more news about the group, choreography video, photo collection, rehearsal stage cam, and a whole lot more, per Koogle TV.
Fans even analyzed the meaning behind BTS's timetable and they said that it seemed to be "space-related." Some of the ARMY put the planet Neptune at the center of the poster, while others said that it looked like the cover of Joel Primack's book, The View from the Center of the Universe. The clip's sound was also likened to a whale's cry and a submarine's sonar pulse.
© 2019 Korea Portal, All rights reserved. Do not reproduce without permission.