'Vikings' Season 5 Episode 11 Air Date & Spoilers: Ragnar Lothbrok Might Stop Ivar From Killing Lagertha, Travis Fimmel Possibly Set For Major Cameo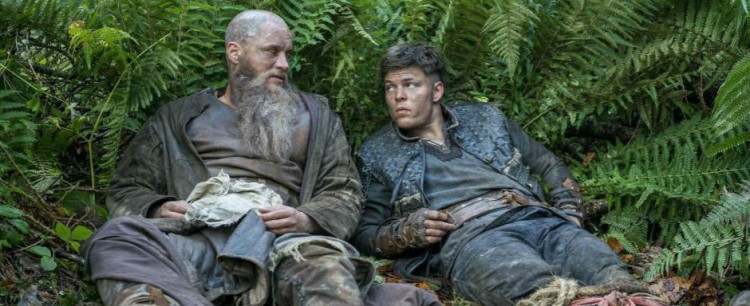 He may have died in the second half of the fourth season but there is little doubt that Ragnar Lothbrok is still a huge part of Vikings Season 5. After all, the death of the King of Kattegat allowed Lagertha to take over the kingdom and take part in a bloody civil war that resulted in several main characters being killed off. So is it possible that Travis Fimmel will still reprise his role in Vikings Season 5 Episode 11? There are speculations that Ragnar will appear to his ex-wife as well as Ivar the Boneless to change their fates one more time.
Fans have been concerned about the future of Lagertha following her defeat in "Moments of Vision." The last few minutes of the mid-season finale showed the Queen of Kattegat sitting in a corner with her blond hair turned white and in a possible state of shock. The teaser for Vikings Season 5 Episode 11 even hinted at Ivar the Boneless sacrificing Lagertha to the gods in celebration of his victory.
Will someone come to rescue the former Earl Ingstad from her tragic fate? It is possible that Ragnar Lothbrok will manage to dissuade his crippled son from killing Lagertha when Vikings Season 5 Episode 11 airs this fall?
The characters in Vikings are no strangers to seeing visions that help them make the right decisions. Ragnar Lothbrok saw Athelstan in the Season 4 episode "Mercy" although the monk was killed by Floki in the third season. Interestingly, King Ecbert also saw Athelstan at the same powerful moment. Needless to say, both visions pushed Ragnar and Ecbert to choose the right path that brought them to their respective fates. Could Ragnar become a similar apparition that will prevent Ivar the Boneless from murdering Lagertha in Vikings Season 5 Episode 11?
Ivar the Boneless is not the only one who could see Ragnar Lothbrok one last time in Vikings Season 5 Episode 11. There is a possibility that Ragnar will appear to Lagertha at the moment of her death. While Ragnar will appear to Ivar and dissuade him from sacrificing Lagertha since he is not the one destined to kill the Queen of Kattegat, Katheryn Winnick's character is expected to have a tearful reunion with Travis Fimmel's legendary Northman.
History has not yet announced the Vikings Season 5 Episode 11 air date. However, there is a possibility that fans will need to wait until November to see if Ragnar Lothbrok will appear to Lagertha and Ivar the Boneless.
© 2019 Korea Portal, All rights reserved. Do not reproduce without permission.