Song Hye Kyo, Song Joong Ki 2018: 'Descendants Of The Sun' Couple Reportedly Kept Relationship A Secret From Co-Star Onew Of SHINee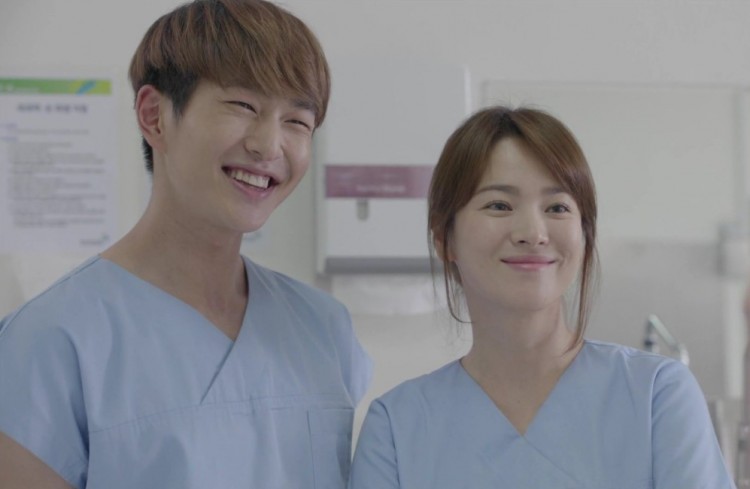 It looks like Song Hye Kyo and Song Joong Ki were absolutely committed to keeping their relationship a secret until they were ready to get married last year. The Song-Song couple's former Descendants of the Sun co-star Onew has just revealed that he had no idea that the real Captain Yoo Si Jin and Doctor Kang Mo Yeon were an item until he learned about their grand 2017 wedding. The SHINee idol even admitted that he "felt betrayed" when the news broke about his former co-stars.
There is little doubt that fans already had their suspicions about the status of Song Hye Kyo and Song Joong Ki's relationship for a long time. After all, the Descendants of the Sun stars had an undeniable chemistry when they played the lovely cardiothoracic surgeon and the Alpha Team leader in the KBS2 drama. However, it wasn't until July 2017 that the Song-Song couple confirmed their engagement. Only a few people were surprised by the announcement, and one of the clueless folks happened to be their former co-star Onew of SHINee.
SHINee recently made an appearance on MBC's Radio Star, where Onew, Key, Minho, and Taemin spoke about their new album Story of the Light. According to Soompi, Onew was also asked why he had "felt betrayed" when he found out about Song Hye Kyo and Song Joong Ki's wedding.
The former Descendants of the Sun star had an interesting response. "Maybe it's because I'm a little slow, but I have no idea when someone around me is dating unless I ask them or hear about it directly," Onew stated, explaining that this was the only reason he did not know his co-stars were seeing each other until their confirmation.
SHINee also joked about how Minho managed to get an invitation to Song Hye Kyo and Song Joong Ki's wedding, and the idol revealed he has been good friends with the real Big Boss since their appearance on Let's Go Dream Team 2 together. However, things got somber when Onew, Key, Taemin, and Minho were asked about how they moved on as a four-member group after the death of Jonghyun.
The idols became tearful as they discussed the difficulties of dealing with Kim Jong Hyun's tragic passing. There have even been speculations that Key's tremendous weight loss was also an effect of his sadness over Jonghyun's death.
Song Hye Kyo is currently in negotiations to appear alongside Song Joong Ki's long-time friend Park Bo Gum in a new drama. SHINee has just released their new album and its first single "Good Night."
© 2023 Korea Portal, All rights reserved. Do not reproduce without permission.