'Outlander' Season 4 News & Update: Claire Wearing Different Ring; Starz May Alter The Story Behind It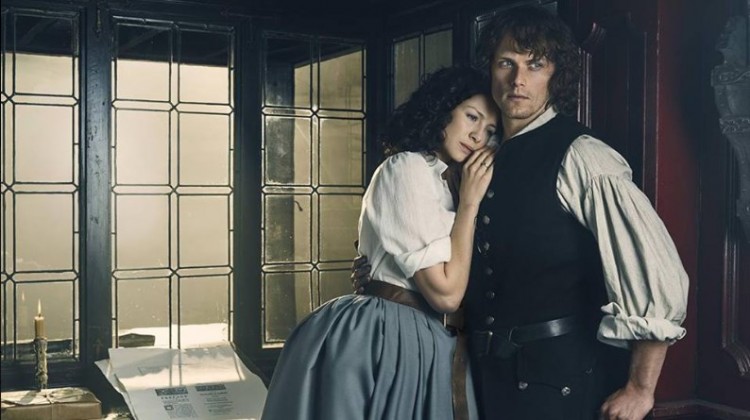 Outlander Season 4's filming continues in Cumbernauld Glen, and fans can't help but gush over their favorite stars, Caitriona Balfe and Sam Heughan. In fact, the Twitter world is filled with the two's photos as their characters Claire and Jamie Fraser.
According to CarterMatt, Caitriona Balfe and Sam Heughan were recently spotted on the set of Outlander Season 4 in Cumbernauld Glen on Monday, May 28. There were even a bunch of photos featuring the on-screen couple uploaded online. The two were seen with fans and working on location.
Outlander Season 4's production is reportedly on its last part and is expected to end in June. As of the moment, there are just a few critical scenes Caitriona Balfe, and Sam Heughan have to film. After that, they will be enjoying their long hiatus as Outlander Season 5's filming will not start until 2019.
Meanwhile, talking about Sam Heughan and Caitriona Balfe's photos; eagle-eyed fans noticed that the 38-year-old star is wearing a different kind of ring. Will something happen to the band Jamie gave to Claire in Outlander Season 4?
While giving autographs, fans saw Caitriona Balfe wearing a silver ring, a different one from what viewers used to see her donning. Does Jamie give Claire a new ring in Outlander Season 4? Fans who already read Diana Gabaldon's novel series with the same title, which the show is based on, knew that the ring Frank gave Claire was the one that got lost. However, from the looks of it, there may be a little change to the story.
According to the fan site, Claire, and Jamie, altering the story behind Jamie's ring might be a "creative choice." In the novel, Stephen Bonnet stole the ring Frank gave to Claire. Fortunately, Brianna recognized the band and did everything to get it and give it back to her mother. But in Outlander Season 4, the ring that Jamie gave to Claire might be the one that got stolen.
This was possibly altered for two reasons. The first one is because the ring Frank gave to Claire looks very common; thus, Brianna might have a hard time recognizing it and giving it back to her mother. On the other hand, the band Jamie gave to Claire is more identifiable with its distinct look. So, Brianna can quickly recognize it.
The second reason is Stephen Bonnet could steal both of Claire's rings, so Jamie can give her a new band that is more valuable than the first one. Whatever their reasons are, fans will surely wait for Outlander Season 4's release in November 2018 on Starz.
© 2023 Korea Portal, All rights reserved. Do not reproduce without permission.