BTS's Suga Responds To Army's Support Through #WeLoveYouMinYoongi, Rapper Exhausted After 'Love Yourself: Tear' Debuts At #1 On Billboard 200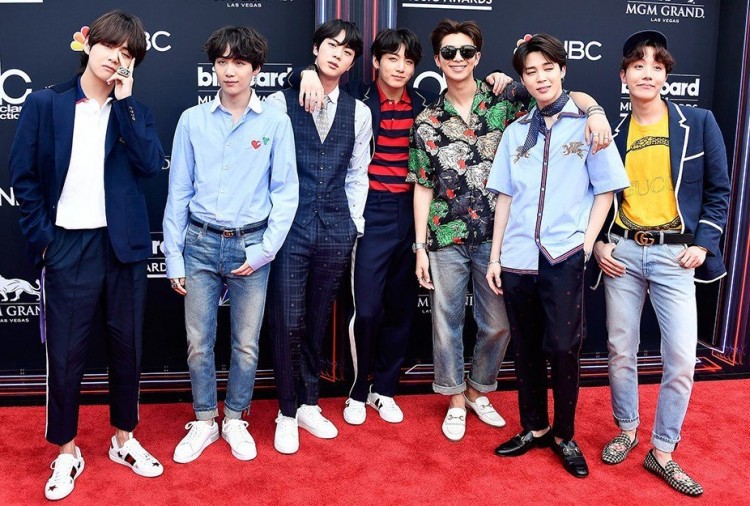 It has truly been a historical month for BTS. The boy group successfully launched their comeback with the release of the new album Love Yourself: Tear and even took home the Top Social Artist Award at the 2018 Billboard Music Awards. However, it looks like their busy schedule has taken a toll on Suga. The rapper reportedly admitted to a fan that he wasn't feeling well during a fan signing event.
The idea of Suga being unwell had an intense effect on the Army. BTS's fans immediately expressed their support for the rapper by starting the hashtag #WeLoveYouMinYoongi on social media. According to AllKPop, it didn't take long before Suga became one of the top trending topics on Twitter. The hashtag has already earned more than 1.36 million tweets in the past 24 hours.
The overwhelming support did not go unnoticed. Suga has recently taken to the official BTS's Twitter account to express his gratitude to his fans for #WeLoveYouMinYoongi. The rapper shared two images of himself and added a grateful caption for his supporters. "Thank you ARMY! See you next week!" Suga wrote.
Although it is still unclear whether Suga is ill or simply exhausted from the boy group's hectic schedule following the release of Love Yourself: Tear, fans can be assured that the Bangtan Boys are enjoying their worldwide success. Rolling Stone has just reported that the new album has debuted at Number One on the Billboard 200, making BTS the first artist to conquer the charts with a mostly foreign language album.
BTS is certainly making history with Love Yourself: Tear and it looks like Suga is also confirming that he fully supports the LGBT community. It has been reported that the rapper stated that "everyone is equal," a statement that only endeared him more to his fans.
pic.twitter.com/vhr4I3aIlc — (@BTS_twt) May 27, 2018
Hopefully, Suga will get all the rest and medical care he needs soon. After all, BTS is set for bigger things in the next month. V, RM, Suga, Jin, J-Hope, Jimin, and Jungkook are expected to perform at the upcoming 2018 FIFA World Cup as they represent Coca-Cola at the highly anticipated sporting event.
© 2023 Korea Portal, All rights reserved. Do not reproduce without permission.