EXO's Xiumin Goes Shirtless In Delightful Swimming Pool Game With 'It's Dangerous Beyond The Blankets' Co-Stars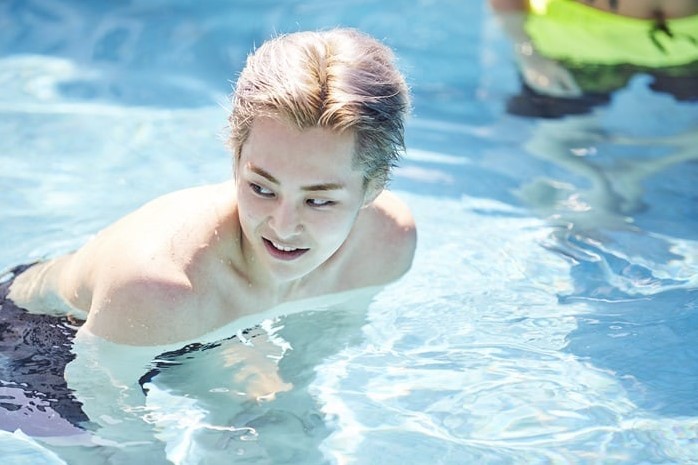 There is little doubt that It's Dangerous Beyond the Blankets has offered a glimpse at the life of celebrities when they aren't dealing with the press and simply enjoying their leisure time. Luckily for EXO fans, the latest episode of the show has given them a chance to see Xiumin shirtless and frolicking in a swimming pool with his castmates. The sight of the idol's athletic built has even made his fellow cast member Mino of WINNER to take several pictures of the half-naked Xiumin!
The May 24 episode of It's Dangerous Beyond the Blankets had sent four cast members on a trip where they tried fishing and played a game of jokgu. Mino even had people laughing as he tried and failed to get the ball across the net. Nevertheless, the WINNER rapper seemed to enjoy his short vacation as he took several pictures of EXO's Xiumin, actor Kim Min Suk, and Olympic speed skater Kim Min Seok.
After a long day of activities, Mino and Kim Min Seok decided to relax in a swimming pool while Xiumin went off to jog for a bit. After his light exercise, the EXO member joined the Olympic speed skater and the WINNER rapper in the pool but not before inviting them to play a game in the water. Fans were delighted when Xiumin took his shirt off before getting into the pool in the episode of It's Dangerous Beyond the Blankets. However, EXO fans were not the only ones who were impressed with the idol's athletic form because Mino immediately grabbed his camera to take pictures of his shirtless co-star.
Xiumin was not the only one who went shirtless for their delightful swimming pool game in It's Dangerous Beyond the Blankets. The EXO member's castmates Mino of WINNER, actor Kim Min Suk, and Olympic skater Kim Min Seok also stripped off their shirts to enjoy the sun.
It is certainly a fun week for EXO. Xiumin's fellow idol Suho recently celebrated his birthday in the best possible way. The EXO leader became the top trending topic on Twitter when fans celebrated #HappySuhoDay last May 22.
© 2023 Korea Portal, All rights reserved. Do not reproduce without permission.