SHINee Emotional 10th Anniversary Updates: Key Remembers Jonghyun; Fans Paid For NYC's Times Square Ad, Promo Bus, & More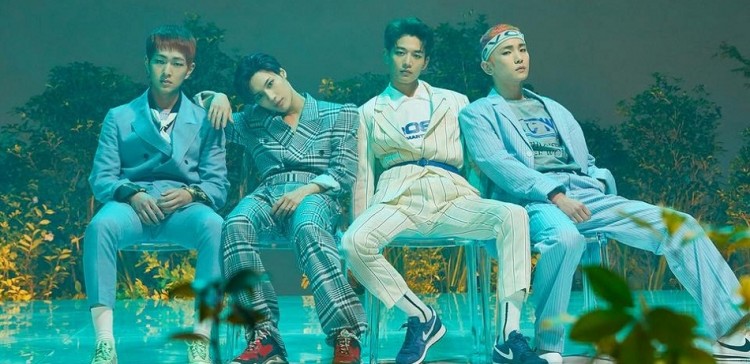 It's SHINee Day! On this day, the K-pop group released their debut album Replay. SHINee, along with their fans across the world, celebrates their 10th anniversary today, but it is also an emotional achievement for the band.
In a touching post on Instagram, SHINee member Key expressed how he misses his bandmate Jonghyun. Key shared a photo of the group with the founder of SM Entertainment, Lee Soo Man, in time for the group's 10th year anniversary. He captioned the photo with some hashtags, including "#wishyouwerehere," referring to Jonghyun. SHINee fans sent their warmest greetings to the band for their latest achievement and also expressed that they also miss Jonghyun.
SHINee fans have also shown their support to the K-pop band in other ways. They paid several promotional ads for SHINee's 10th year anniversary. One of which can be seen in New York City's Times Square. The ad will run for a week from May 21 to 27.
The group's fans, also known as the SHINee World, also made a promo bus with "SHINee Day" written on the back and photos of the five members of the band on the sides. The bus will be traveling around Seoul throughout May, AllKpop reported. They also installed promo materials in Seoul's subways as well as at the underground of COEX Mall.
SHINee members are overwhelmed by their fans' support for their upcoming comeback album and on their 10th year in the industry. Onew, Key, Minho, and Taemin thanked their fans in a special message that is currently on display on a LED billboard outside SMTOWN Coex Atrium in Seoul.
"We're thankful to have spent so much time of the first part of our lives with you all. Thank you for always believing in us and walking along this path with us. We hope that the time spent with us is as happy and precious as it was for us. Thank you. We will not forget that these moments are the most precious and we will go forward with strength. We're always thankful. Since you all will brighten the path we will walk on, we will continue on without stopping. Thank you always, SHINee World. We love you," the group said in their message.
The boys also released new teaser images for their The Story of Light album. One of the images showed Minho, Taemin, Key, and Onew covered in plastic with green paint running down. The two other photos featured the four members of the band, but it can be noticed that there is a huge space between Minho and Taemin in one snap and between Onew and Taemin in another. Some fans believe that it was intentionally made for Jonghyun. Check the photos below.
While waiting for The Story of Light release date, the band also opened a special website where fans can create their own playlist of SHINee's songs. They can choose colors and can attribute each color as they see fit to a SHINee track to make their own "playlist" or "SHINee Color Chip." There will also be a "SHINee's Pick" where each member of the band will reveal their playlist. The website will soon also feature a "Today's Pick," which will be a daily recommendation from the SHINee. Check out the website here.
SHINee is set to release a three-part mini album in the coming days. The first part, titled The Story of Light EP 1, will drop on May 28 at 6 p.m. KST.
#SHINee #샤이니 #TheStoryofLight

The Story of Light EP.1 : 2018.05.28 #데리러가 #GoodEvening
The Story of Light EP.2 : 2018.06.11 #IWANTYOU
The Story of Light EP.3 : 2018.06.25 #네가남겨둔말 #OURPAGE pic.twitter.com/fOZ6Bu2wMJ — SHINee (@SHINee) May 24, 2018
© 2023 Korea Portal, All rights reserved. Do not reproduce without permission.