Nayeon Claims To Be #1 In TWICE; Says Other Lower Ranking Members Need To Work Harder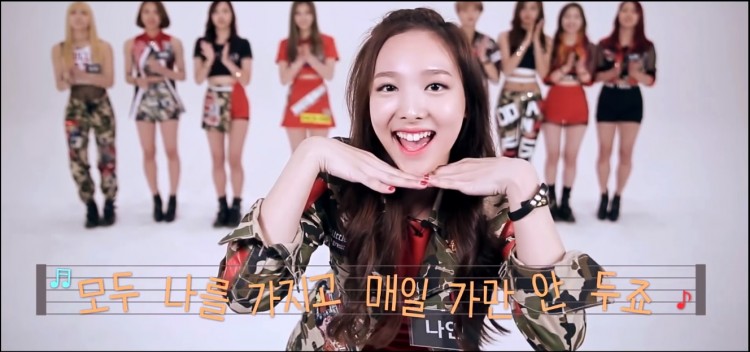 TWICE definitely has great group dynamics as a K-Pop girl group, but this may take a backseat in priority once the individual member rankings are mentioned. This might have been the case during one joke from member Nayeon which poked fun at the members of the group she might have thought as less popular.
This was during TWICE's TWICELAND ZONE 2: Fantasy Park concert back on May 20 where Nayeon introduced herself to the fans as TWICE's top-ranking member. Momo jokingly retorted Nayeon by claiming that it was actually Unni that is #1 and her as #2. Jihyo then continued the trend by saying that she would like to be #3 if it was first come, first serve.
Though Nayeon would not let up and might have taken the joke too far further saying that rankings are determined by the company and the cheer and she is easily #1 by these standards. Afterward, she joked that Jungyeon and Tzuyu are 9 and 8 respectively and that they needed to work harder after telling them to introduce themselves. Sana seemingly came to the rescue and continued the joke by introducing herself and stating that she does not care about the ranking in TWICE.
For some fans of TWICE, Nayeon may have struck a nerve since a lot of them seem to have called out that despite it was a joke, she really meant it that way. Some of them also recalled that she is still attention-hungry and this has been her attitude since she was 16. There were also those who brought up her past insensitive jokes where she claimed that Jungyeon was the ugliest girl in TWICE.
Fans of Jungyeon and Tzuyu rallied behind them too and claimed that Nayeon should not have picked on the groups shyest members. Nayeon definitely is not without flaws and other embarrassing traits, and regardless, they should all be working treating each other as sisters instead of competition and ranking fodder.
Despite this, TWICE is still as successful as ever and their accolades continue to pile up, most recently in Japan with their insanely popular new single. It will certainly take more than Nayeon's jokes to tear up the great dynamics of TWICE.
© 2023 Korea Portal, All rights reserved. Do not reproduce without permission.