Netflix's 'The Punisher' Season 2 News: Set Photos Leaked; Shows Jon Bernthal Taking On Some Goons As Frank Castle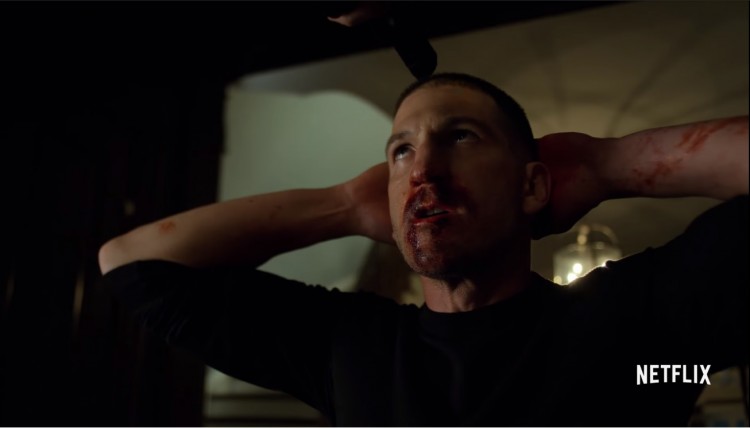 Frank Castle (Jon Bernthal) a.k.a. The Punisher is out for blood again and is ready to make a killing with his show now slated for an upcoming second season on Netflix. Though it seems that no matter how hard The Punisher tries to stay hidden, excited photographers will always find him.
This time around, some eagle-eyed photographers had spotted Jon Bernthal on the set of The Punisher Season 2 during a shoot nonetheless. Of course, they took some photos and have since leaked them online, showing Bernthal in action during what appears to be a major violent sequence in the upcoming second season of the Netflix show.
The photos also hint that The Punisher may definitely be back in Hell's Kitchen, which is a chunk of New York rife with criminal activity. This domain is also shared with none other than the vigilante Daredevil who also has his own show on Netflix and has had frequent run-ins with The Punisher. Rest assured, there will be plenty of shootout and action scenes in The Punisher Season 2.
In the said leaked photos, Jon Bernthal can also be seen holding a gun, which is presumably a prop and doing his own action scenes, something quite rare these days with the actors having plenty of stunt doubles to do the acrobatic scenes for them. Also back are some of Frank Castle's old friends in the first season of The Punisher such as agent Dinah Madani (Amber Rose Revah) and Curtis Hoyle (Jason Moore), both of whom helped him and were even crucial to his survival.
One thing to note is that there are currently no reports or hints about what comic book storyline will be adapted by the second season of The Punisher. However, the show will definitely expand upon the notion of heavily disfigured Billy Russo (Ben Barnes) a.k.a. Jigsaw after suffering a hideous defeat at the hands of The Punisher back in the first season.
There are also no reports yet of when the second season of The Punisher will be released on Netflix, though rest assured, filming is certainly underway based on the leak, and they are prioritizing action scenes first. Fans might have to hold their breaths for official announcements from Netflix.
© 2022 Korea Portal, All rights reserved. Do not reproduce without permission.