'Game Of Thrones' Season 8 Theories & Spoilers: The Return To Tollymore Forest Might Solve Very First Episode's Mysterious Symbol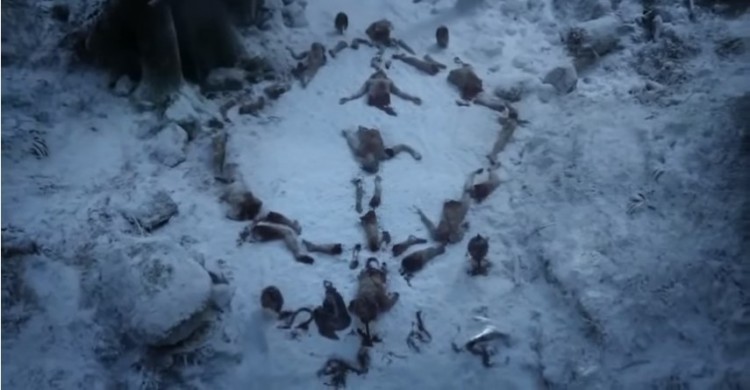 The upcoming Game of Thrones Season 8 is bound to secrecy, but eagle-eyed fans can't be stopped from giving their theories of what might happen. In fact, there is a new theory about the mysterious symbol seen in the HBO series' very first episode swirling online.
In the series, based on George R.R. Martin's A Song of Ice and Fire's, very first episode aired in 2011, the Rangers of the Night Watch's dismembered bodies were seen scattered on the ground of a snowy forest. However, they were not just simply tossed on the ground but arranged into a mysterious symbol that was said to be made by the White Walkers. So, will this mystery be solved in Game of Thrones Season 8?
In a post on the fan site Irish Thrones on Twitter, it revealed a photo of Game of Thrones Season 8's location sign at Tollymore Forest in County Down. For those who don't know, this forest was where Tyrion (Peter Dinklage) and Jon Snow (Kit Harington) had a campfire on their way to The Wall, and where the Starks found their Direwolves. This was also the place where the Rangers of the Night's Watch dismembered bodies were found.
PINK #GameOfThrones Irish filming location sign pointing to Tollymore Forest Park at Newcastle, County Down. pic.twitter.com/wjjJJuBnC7 — Irish Thrones (@IrishThrones) Mayo 13, 2018
So, as it is assumed that Game of Thrones Season 8 will return to the very start to solve a big mystery, will the meaning of the mysterious symbol be revealed? To recall, showrunner David Benioff explained the importance of the White Walker's symbol when it was seen in the previous season.
"It's supposed to be something that's very evocative of the thousands of years that have passed since these caves were first explored and the paintings were first made," he said, per Esquire. The symbols are said to have "mystical significance" for the Children of the Forest. So, getting back to the forest in Game of Thrones Season 8 might mean the White Walkers' mysterious message from the very beginning will be revealed.
Meanwhile, it looks like HBO is taking its time for Game of Thrones Season 8's production, Winter is Coming reported. Compared to the series' previous installments, the upcoming season will only have six episodes, but it takes longer filming. So, it seems like the network is doing everything to polish and make the final season as perfect as it can be. The final installment of the critically-acclaimed fantasy series is expected to be released in 2019.
© 2019 Korea Portal, All rights reserved. Do not reproduce without permission.