SHINee To Release First EP Without Jonghyun; Release Dates & Everything You Have To Know About The K-Pop Group's Big Comeback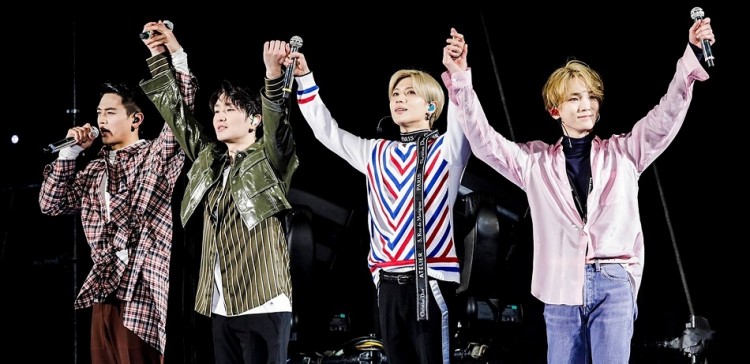 K-pop fans around the globe have been waiting for SHINee's comeback for quite some time now. The group took it slow after bandmate Jonghyun died in December 2017. Now, Choi Min-ho, Lee Tae-min, Onew, and Key are ready to keep the band's legacy without a bandmate and a close friend.
SHINee has teased their upcoming Korean album titled The Story of Light. To make sure that the long wait is worth it, the quartet will be releasing not just one but three EPs. They also revealed their comeback date in a poster that was shared on their social media accounts.
The Story of Light EP 1 will drop on May 28. It will be followed by The Story of Light EP 2 on June 11, and finally, The Story of Light EP 3 will be available on June 25. Each part of the album will have its own title track and four other songs for a total of 15 tracks all in all. The title track of The Story of Light EP 1 is titled "Good Evening."
Additionally, SHINee will be holding a "SHINee Day" fan meet on May 27 in Seoul, South Korea. Apparently, the group will be doing promotions for each EP.
Ahead of the release of their three-part Korean album, SHINee transformed their website and social media icons with a new design. They also delivered a special comeback greeting through Marie Claire Korea. The group's comeback date also marks the 10th anniversary of SHINee.
"To celebrate our 10th anniversary, SHINee has come back with a new album! Please look forward to it, and please check the June issue of Marie Claire for our interview, as well as additional details," the group said in the clip.
SHINee's comeback is a bittersweet event for the K-pop act. This will be their first Korean album with only four members and their first time to be in front of the South Korean audience since Jonghyun's passing. SHINee was able to interact with their fans in Japan when they decided to continue with their tour in the country earlier this year even without Jonghyun.
The K-pop idol committed suicide in December 2017. He left behind a note in which he admitted that he was battling depression. Thousands of fans paid their respects at his funeral while his bandmates carried his coffin.
On March 26, SHINEE released their Japanese single "From Now On," which posthumously featured Jonghyun. It was followed by their first Japanese compilation, "Shinee The Best From Now On." They also recently dropped an animated music video for their song "Every Time" off of their Japanese album.
SHINee first released their debut single titled "Replay" on May 22, 2008. The K-pop act released hit tracks such as "Lucifer," "Everybody," and "View." Choi Min-ho, Lee Tae-min, Onew, Key, and Jonghyun's albums also topped the World Albums chart on several occasions.
© 2019 Korea Portal, All rights reserved. Do not reproduce without permission.