Know Song Joong Ki, Song Hye Kyo's Love Story And Other 4 On-And-Off Screen Famous Korean Couples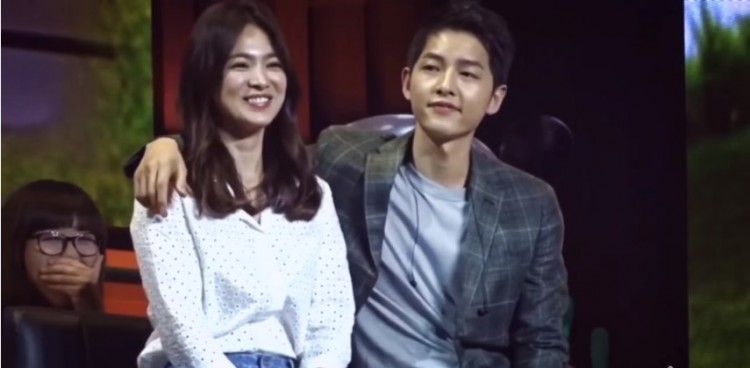 Fans are not the only ones who fall in love in Korean dramas, but its stars do, too. In fact, there are a lot of Korean on-screen couples who take their love story from reel to real. So, here is the list of some favorite on-screen couples who made their own happy ending in real life.
Song Joong Ki and Song Hye Kyo
Of course, one of the most famous couples in Korea on-and-off-screen is Song Joong Ki and Song Hye Kyo. The two were seen together in the 2016 top-rating Koreanovela, Descendants of the Sun. However, a friend close to the couple revealed they were already seeing each other even before they started filming the television drama, per Candy.
Although they didn't reveal their relationship right away to the public, Song Joong Ki and Song Hye Kyo didn't hide their romance. They announced they were officially together in July 2017, and they got married in October of the same year. Now, they are famously known as the Song-Song couple.
Rain and Kim Tae Hee
Rain and Kim Tae Hee met when they made a commercial film for Coupang, a social commerce company in 2011. Their 31-second video together turned into a lifetime bond. After a couple of years, the two were seen secretly dating, but it wasn't until January 2013 that the couple's agency announced they were officially dating.
In January 2017, Rain officially announced in a written letter shared on his Instagram account that he and Kim Tae Hee were about to get married. After five years of being in a relationship, they finally tied the knot in a private, low-key Catholic Church ceremony attended by their close friends and family members in the same month. And in October of the same year, they welcomed their first baby girl.
BIGBANG's Taeyang and Min Hyo Rin
Taeyang and Min Hyo Rin started dating after meeting each other in the making of the Bigbang member's music video for "1 AM" in 2014. She is his first and last girlfriend. The 29-year-old singer proved he is a conventional lover.
According to Soompi, Taeyang writes songs for Min Hyo Rin, he gives her handwritten letters, he makes her laugh with her jokes, and he is always there to support her. The two made their relationship public in 2015 and announced their engagement in December 2017. They recently tied the knot in February this year.
Ahn Jae Hyun and Goo Hye Sun
Ahn Jae Hyun and Goo Hye Sun fell in love while doing the 2015 fantasy medical drama Blood. They started dating shortly after the television series ended in the same year. When the couple was spotted together and their photos went viral, their agencies confirmed they were seeing each other.
The couple registered their marriage at the Gangnam district office on May 20, 2016, and officially got married the next day. Ahn Jae Hyun and Goo Hye Sun opted not to have a grand wedding celebration to donate the money to Severance Hospital's pediatric ward. The two star in tvN's Honeymoon Diaries, where they can be seen sharing relationship tips.
Ki Taeyong and Eugene
Ki Tae Yong and Eugene first met while filming the Korean drama Creating Destiny in 2009. They officially announced their engagement in May 2011. At the time, S.E.S.'s former member wrote on her website, "The drama Creating Destiny actually created my beloved destiny."
Ki Tae Yong and Eugene tied the knot in July 2011 at Seoul Central Church. In her wedding pictures, she can be seen wearing a white wedding dress and hanbok, the traditional Korean dress. They took a three-week honeymoon vacation in Europe.
© 2023 Korea Portal, All rights reserved. Do not reproduce without permission.
Tags:
Song Joong Ki
,
Song Hye Kyo
,
Rain
,
Kim Tae Hee
,
BIGBANG
,
Taeyang
,
Min Hyo Rin
,
Ahn Jae Hyun
,
Goo Hye Sun
,
Ki Taeyong
,
Eugene