Song Joong-Ki, Song Hye-Kyo 2018: Pair Named As Best Korean Drama Couple, Proof 'Descendants of the Sun' Actor Is The Ideal Husband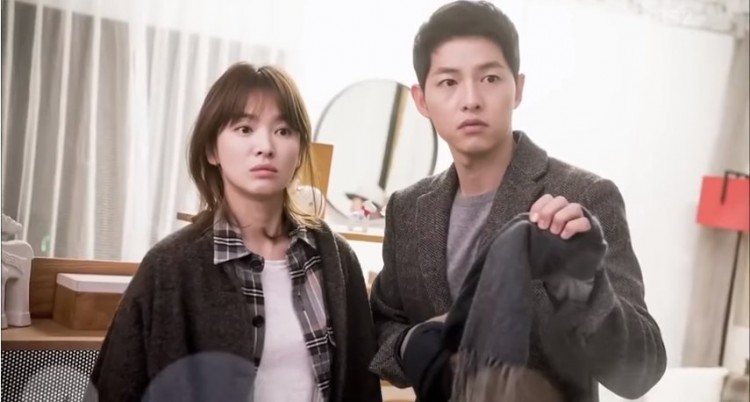 Real-life couple Song Joong-Ki and Song Hye-Kyo were recently chosen as the best Korean drama couple with age difference - thanks to the hit drama Pretty Noona Who Buys Me Food. A lot of fans believed the Descendants of the Sun stars are the perfect pair on and off-screen, and the 32-year-old actor is showing proof he is the ideal husband any woman can have.
According to Hello Kpop, Song Joong-Ki and Song Hye-Kyo were recently spotted wandering the streets of Seoul when the 36-year-old Full House actress had to go to the toilet. And just like the best husband that he is, he accompanied his wife to the ladies room and patiently waited outside the door. He also openhandedly welcomed a fan who asked for a photo op.
In spite of sporting a casual look, Song Joong-Ki cannot hide his star power. So, when someone approached him for a selfie, he accepted it and even held the camera for them to take a picture. With his humble attitude and being a good husband to Song Hye-Kyo, fans showered him with a lot of positive and good comments.
"Song Hye Kyo really got married to a good husband," one fan said. Another one said seeing Song Joong-Ki and Song Hye-Kyo together is like "seeing happiness." Lastly, a follower advised every woman who is looking for a perfect guy to find someone like the Running Man star.
Proving he is really an ideal husband, Song Joong-Ki even refused to be in a big project on Netflix as he chose to be with his wife, Song Hye-Kyo, instead. In February, Koreaboo reported the Innocent Man's agency, Blossom Entertainment, revealed he declined to play a role of a prince in the upcoming web series, Kingdom.
This was simply because Song Joong-Ki wanted to give his full attention to Song Hye-Kyo as they were just about to get married at the time. As the filming for Kingdom started in October 2017, it was the same month their wedding was about to happen. It has been known that doing a series in Korea takes a full year to finish. So, it looks like he doesn't want to be apart from his future wife then.
This is even not the first time Song Joong-Ki did something sweet for Song Hye-Kyo. Soompi revealed a source told the publication he was surprising the Autumn in my Heart actress with snacks when she had a photoshoot. This happened even before the two revealed they have a relationship and before Descendants of the Sun started filming.
He would even randomly visit her on the set. And to support each other, Song Joong-Ki and Song Hye-Kyo are accompanying each other whenever they have international gigs. Truly, the two could be the perfect couple can be seen on and off screen.
© 2022 Korea Portal, All rights reserved. Do not reproduce without permission.