Song Joong Ki News: Fun Facts About Song Hye Kyo's Husband While You Anticipate His Next Big Project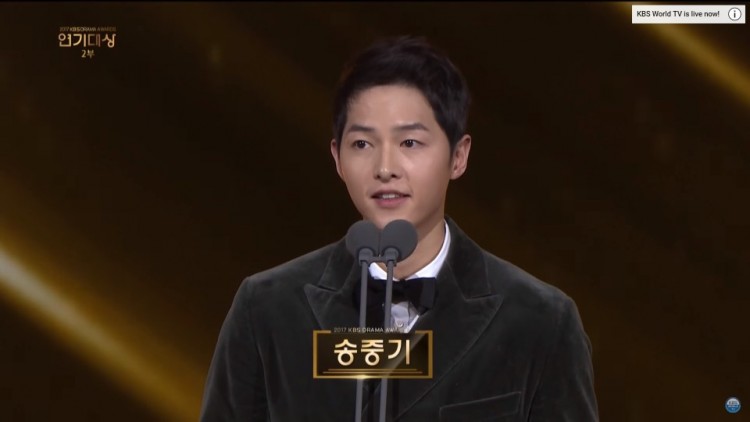 Song Joong Ki is highly in demand right now, both in South Korea's entertainment industry and perhaps in most girls' "ideal" man list. So while you are waiting for his next big project, you might want to expand your knowledge about the male star.
He was quite shy. Song Joong Ki is quite a unique character as we all know, and this is true both on and off the screen. It actually became apparent that he was quite a peculiar person back when he was a child where he was so timid that his parents actually had to enroll him in a social activities class.
One tough oppa. During one of Song Jong Ki's action scenes for Descendants of the Sun, the actor incurred a wrist fracture. This, however, did not deter the actor and he kept on filming, though he had to wear a cast and a knee protector for the rest of that day.
He is intelligent. Apart from being an actor, Song Joong Ki holds a Business Administration degree from the prestigious Sungkyunkwan University. In fact, in the said exam for his degree, he scored a whopping 380 out of 400, which is close to perfect—like Song Joong Ki is.
A taste for music. Song Joong Ki, apart from having an awesome career in television, has also appeared in music videos. In fact, he has been in two MVs; namely, Kim Jong-kook's "Men Are All Like That" and "Poisonous Tongue" by Tei. He is as gorgeous as ever even in the music videos, by the way.
Digitally secretive. You may be wondering why it's so hard to find Song Joong Ki on social media, except for his fan accounts. This is because Song Joong Ki himself does not have any social media accounts due to the simple fact that he is not tech-savvy.
So, unfortunately for stalkers, there's not much they can do to keep tabs on their oppa Song Joong Ki via social media. Perhaps this is the only flaw he has, and it may not even count as one. Regardless, maybe someone can teach him how to use social media?
Big plans ahead for the future. This one is guaranteed to make you swoon—Song Joong Ki's next television project might involve him reuniting with his Descendants of the Sun co-star Kim Ji Won. Yes, he is married to Song Hye Kyo, but it should be a harmless television love-team.
© 2023 Korea Portal, All rights reserved. Do not reproduce without permission.