'MIXNINE' Finalists Air Their Side On Debut Cancellation; Reveal Things 'Didn't Work Out' With YG Entertainment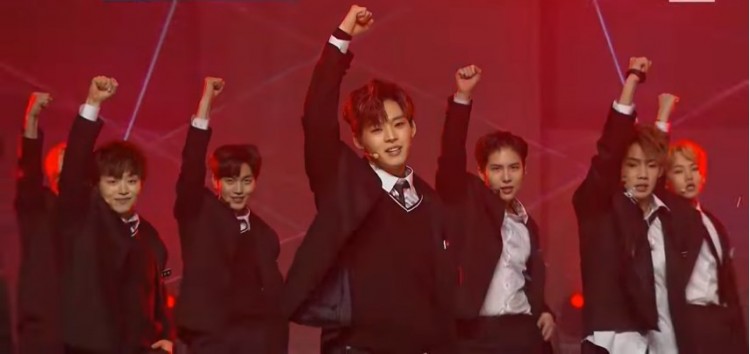 Unfortunately, the plans to introduce MIXNINE's finalists as a group are now canceled. So, to air their side, the Happyface Entertainment trainees Woo Jin Young, Kim Hyun Soo, Jo Yong Geun, Park Woo Dam, and Yoon Jae Hee appeared on V-Live to talk about the issue on Wednesday, May 2. Song Han Gyeom also made his own broadcast to share his sentiments.
Through the camera, Song Han Gyeom talked to his fans and told them he has something to say, per All Kpop. "Did you guys see the news?" he asked. The Seven O'Clock member admitted that things didn't work out between the MIXNINE finalists and YG Entertainment. So, the group's supposed official debut has been canceled.
"So yeah that's it. It's so unfortunate," Song Han Gyeom sadly said. To recall, the 21-year-old star was ranked No.6 during the MIXNINE's finals. As part of winning, they were set to be introduced as a new boy group. Unfortunately, that won't be happening.
In spite of that, Song Han Gyeom still gave his gratitude to his fans, family members, peers, and other MIXNINE finalist members. "I love you guys," he declared. Although their situation ended in such unfortunate event, he is still thankful for their support. He ended the broadcast by saying thank you, and I'm sorry to everyone.
On the other hand, other MIXNINE finalists, led by Woo Jin Young, also announced that their introduction as a new K-pop group would never happen. He admitted there are some regrets, but he promised to work hard and show a better version of himself in the future. He then humbly asked his fans to look forward to it and wait for him. "I'll work hard to see you soon," he swore, per Soompi.
The other MIXNINE finalists also said there is "always a way forward," so they don't regret what just had happened, and even asked their fans to wait for them. Woo Jin Young then made the situation light by saying their supporters can't cheat on him with anyone else. Aside from him, the show's nine male members also include Kim Hyo Jin, Lee Ru Bin, Kim Byeong Kwan, Choi Hyun Suk, Song Han Gyeom, Kim Min Seok, Lee Dong Hun, and Lee Byoung Gon.
© 2019 Korea Portal, All rights reserved. Do not reproduce without permission.