BTS New Travel Vlog: Jungkook Uses Loote's 'Your Side Of The Bed' In 'G.C.F. Osaka,' Duo Expecting Possible Collaboration [VIDEO]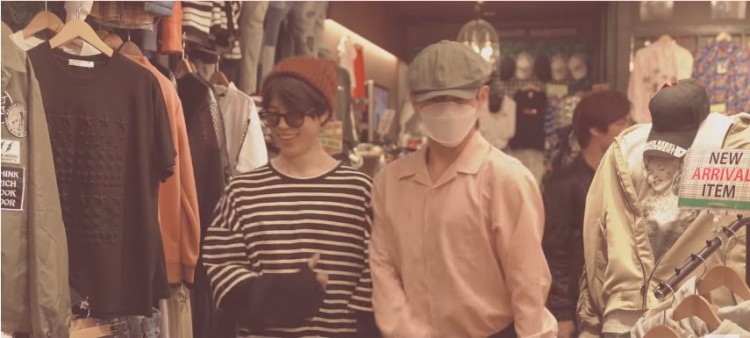 BTS unveiled another travel video blog, titled G.C.F. in Osaka, on the group's official YouTube channel on Monday, April 30. The clip was filmed and edited by one of their members, Jungkook, who once again showed his incredible talent using Loote's hit song, "Your Side of the Bed." This surprised the American music duo, named Jackson Foote and Emma Lov Block, who is now looking forward to a collaboration.
As soon as Loote learned BTS used "Your Side of the Bed" as background music of G.C.F. in Osaka, they couldn't contain their excitement and used Twitter to thank the group. Expressing their joy and appreciation, they showed how grateful they were to the hitmakers for including their song in their video, All Kpop reported.
"Thank you @bts_bighit for using 'Your Side Of The Bed' in your video!" Loote tweeted. With that, Jackson Foote and Emma Lov Block asked BTS for a possible collaboration, knowing that V, Suga, Jin, Jungkook, RM, Jimin, and J-Hope know their music. "P.s. we should collab," their tweet continued.
Loote's "Your Side of the Bed" is now known in Korea—thanks to BTS' G.C.F. in Osaka. In fact, the song is now gaining popularity in the country and even landed the No. 1 spot on MelOn's "Real-time Sudden Surge" search engine list.
This is not the first time Loote has been involved in the K-pop world. As a matter of fact, Koreaboo reported Jackson Foote and Emma Lov Block were announced to do an opening act for Eric Nam's Honesty Tour. However, the way BTS made the duo and their song known will surely help them opening a lot of doors in the music world.
Meanwhile, BTS' release of their new travel vlog caught fans off-guard. In fact, what surprised them more is seeing Jungkook's artistic take in doing G.C.F. in Osaka, which he self-directed. The clip showed the group's fun adventure while wandering around Osaka, Japan.
Using Loote's "Your Side of the Bed" to set the video's mood, BTS' G.C.F. in Osaka came up to be not the typical travel vlog people see every day. The clip carries a subtle look that goes with the pink background. It also has hazy settings completed with scenic shots that make the viewers feel like they are in a dream.
G.C.F. in Osaka's close-up shots seemed to show people are watching the travel vlog through Jungkook's eyes. Through this, fans can feel like they are traveling along with other BTS members while eating in restaurants, shopping, and walking on city streets.
G.C.F. in Osaka is the newest addition to Jungkook's Golden Closet Film collection. His first G.C.F. video was about his trip in Tokyo, which was released in November 2017.
© 2023 Korea Portal, All rights reserved. Do not reproduce without permission.
Tags:
BTS
,
G.C.F. in Osaka
,
YouTube
,
Your Side of the Bed
,
Loote
,
Jackson Foote
,
Emma Lov Block
,
V
,
Suga
,
Jin
,
Jungkook
,
RM
,
Jimin
,
J-Hope