'Fear The Walking Dead' Season 4 Spoilers: Nick Clark's Death Could Lead To Daniel Salazar's Return In Future Episodes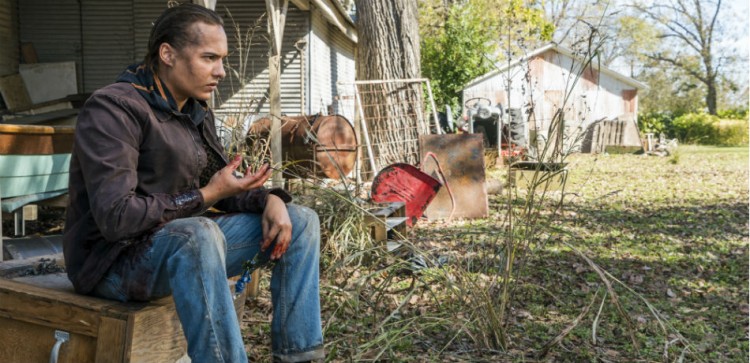 The new season of Fear The Walking Dead has just suffered its first major death and it is definitely a big one. However, fans are seeing hope despite the loss of one of the show's most important characters. The following contains spoilers from Fear The Walking Dead Season 4 Episode 3 so proceed with caution.
In "Good Out Here," Nick Clark made a fatal mistake by killing the Vulture named Ennis. As it turns out, Ennis happens to be Charlie's guardian and the young girl was not happy with Nick for killing the Vulture. The most shocking moment in Fear The Walking Dead Season 4 Episode 3 featured Charlie shooting Nick and leaving him for dead as Luciana and Alicia look on in horror.
The death of Nick Clark was not a welcome one for most fans who have grown to love the former heroin addict. After all, the AMC show opened with Nick's story as he woke up in a drug den filled with walkers. The character has certainly grown over the years but the decision to kill Nick stemmed from Frank Dillane's desire to pursue other projects. But could Nick's fate actually lead to the series finally dealing with another character's return in Fear The Walking Dead Season 4?
Fans have been wondering what happened to Daniel Salazar after the dam explosion in the third season finale. Although the fate of the other characters has been revealed in Fear The Walking Dead Season 4, Rubén Blades has yet to make an appearance. Although people can be assured that Salazar is alive, some are concerned that Blades' busy schedule could mean that his character will be left out of the current storyline. Nevertheless, there are speculations that Salazar will eventually return to fill up the space left behind by Nick's death.
First (1x01) and last(4x03) shot of nick Clark in fear the walking dead #FearTWD pic.twitter.com/oMhZJtCu1q

— jenny (@thatsmytuIip) April 30, 2018
Fear The Walking Dead Season 4 co-showrunner Andrew Chambliss has already promised Entertainment Weekly that fans "definitely will be seeing Daniel Salazar in the Walking Dead universe." Unfortunately, Chambliss did not confirm whether Salazar will return right away.
Fear the Walking Dead: Will We See Daniel Salazar in Season 4? https://t.co/oNjfDGAJG5 via @TVGuide — Lisa (@proudlylisa) April 25, 2018
Will Daniel Salazar finally be back in Fear The Walking Dead Season 4? Keep watching the series which airs on AMC every Sunday nights.
© 2019 Korea Portal, All rights reserved. Do not reproduce without permission.